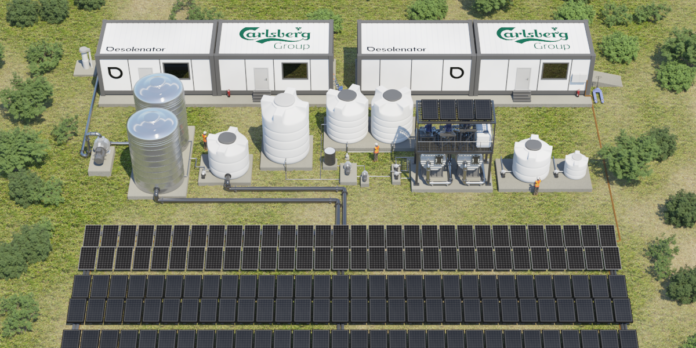 Carlsberg Group announces partnership with Desolenator, the world's first solar thermal sustainable water purification technology, to create clean drinking water for a town of 4,000, in the Sundarbans in West Bengal, India.
The Sundarbans, West Bengal, has been hard hit by climate change and water scarcity. The situation has been compounded in 2020 by COVID-19 and Cyclone Amphan, with water being trucked into some areas.
The sustainable desalination project, due to complete mid-2021, will create 20,000 litres of clean drinking water using the heat and power of the sun. A community-led water distribution model, designed in partnership with WaterAid and Strathclyde University, will empower local women entrepreneurs by providing employment.
The multi-disciplinary partnership unites Carlsberg's ambitious sustainability plans with Desolenator's innovative technology, local expertise from WaterAid and the Sundarbans Social Development Centre, and world-class research from Strathclyde University.
Protect Shared Water Resources
This is part of the ambitions in the brewer's 'Together Towards ZERO' sustainability programme. It aims to eliminate water waste across its breweries by 2030 and to protect shared water resources in high-risk areas.
Carlsberg says it is committed to creating community partnerships that go beyond reducing water use at its breweries to help safeguard shared water resources around them. And through an assessment with WWF, using its Water Risk Filter, Carlsberg identified its highest-priority sites and the water basins that they draw from. Including all seven of its Indian breweries.
The Sundarbans, West Bengal, around 120 km from Carlsberg's Kolkata brewery, and home to around 4.7 million people, is at a critical point. An area surrounded by salt water, suffering the immediate consequences of rising sea levels. Climate change causes changing weather patterns and more extreme events. Desolenator's sustainable water purification system is 100% solar-powered, harvesting thermal and electrical energy to distil water. This allows it to create high-quality water from the most complex sources, delivering transformative impact for communities.