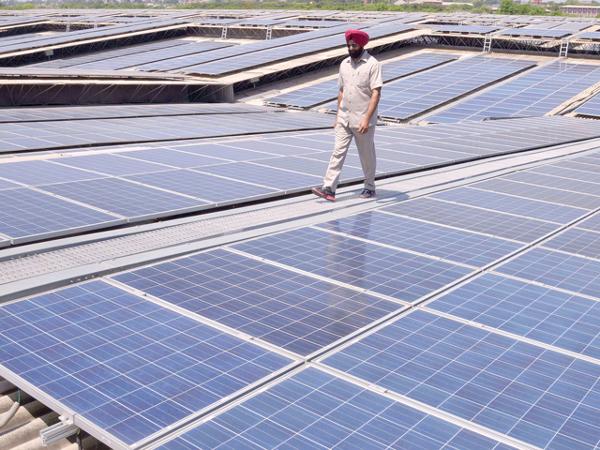 Piyush Goyal, minister of state, independent charge, for power, coal, new & renewable energy and mines recently informed the Lok Sabha that a master plan for making Chandigarh a Model Solar City under the 'Development of Solar Cities' program has been prepared. The solar city cell has also been established.
The minister further said that UT Administration, Chandigarh has empanelled 48 Solar Power Aggregators from whom any resident of Chandigarh can install Rooftop Solar Power Plant and can avail 30% subsidy. Solar rooftop power plants of aggregate 7.70 MW capacity are installed on 145 Government buildings till May, 2016 in this city.
The city is also taking a lead in rooftop solar. Recently, the chief conservator of forests, Santosh Kumar, inaugurated a 50kWp grid connected rooftop solar power plant at Government Model Senior Secondary School.  The central government has set a target of installing 50MW rooftop solar power plants in Chandigarh by 2022.
Hartek Power Pvt Ltd successfully executed the city's very first solar project in the commercial category at Chandigarh Technology Park in Kishangarh recently. The 436-kWp project is the largest solar PV project to be commissioned in Chandigarh after the ones at Punjab Engineering College, Sector 12 (1,000 kWp) and Government College for Girls, Sector 11 (495 kWp), taking Chandigarh a step closer to becoming a "Model Solar City".
The Chandigarh Renewable Energy Science and Technology Promotion Society (CREST) has helped Chandigarh emerge as India's Number 1 city in state intervention models for solar power generation by installing solar PV projects to the tune of 6.53 MW on the rooftops of 134 government buildings in the city (as on March 31, 2016), it is for the first time that CREST worked with a private firm.
Hartek Singh said that since lack of funds is a major constraint in the way of achieving the city's revised target of 100 MW by 2022, private participation should be encouraged to give a push to solar power generation in the high-potential residential and commercial segments.