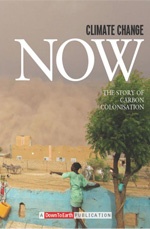 The challenge is to find a balance between economic growth and ecological spaces. However, global climate negotiations, for over 25 years, are stuck, as the US, which is the largest polluter historically, has walked out of every agreement.
This book is the voice of the developing countries, or the Global South, who are the victims of climate change, even though they have not contributed to the problem. And they will never have capacities to deal with catastrophes as much as the rich nations.
Climate change is going to widen the gap between developed and developing countries. This is the story of carbon colonization.