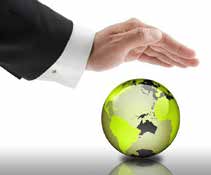 Ecova has conducted its second annual energy and sustainability outlook survey of more than 500 energy, sustainability, facility and finance professionals on behalf of North American-based companies.
This year provided more evidence of a fundamental shift in the way energy and sustainability professionals think about the broad spans of their responsibilities, with companies having a greater understanding of their energy and sustainability needs and maturing in their approach of these areas. While cost saving is undeniably a driver, this year's results show a more strategic, long-term view of energy and sustainability management. Companies are working • Consumers across countries remain highly uncertain about corporate performance in the Citizenship dimension • Increasing public awareness of company's CSR performance is key to maximizing the return on investment (ROI) in CSR and sustainability. Companies that understand how to create positive perceptions of their CSR programs gain reputational and business benefit in the form of increased sales and recommendations from consumers. • Top three CSR reputation winners in 2014 are Google, Microsoft and The Walt Disney Company to keep their eyes on the bigger picture as the industry becomes more complex and energy and sustainability management becomes essential to cost control and operational efficiency.
Ecova's outlook is based on its historic knowledge and expertise on the market, with more than 20 years of experience working with clients that represent more than 20 percent of the Fortune 500.
http://www.ecova.com/media/1078586/ecova_report_2015_ energy_and_sustainability_predictions.pdf