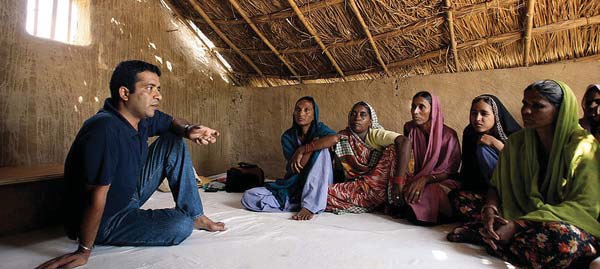 Goonj founder Anshu Gupta was awarded the 2015 Ramon Magsaysay prize "his creative vision in transforming the culture of giving in
India, his enterprising leadership in treating cloth as a sustainable development resource for the poor, and in reminding the world that true giving always respects and preserves human dignity."
The idea of 'Work for Cloth' came from a visit to Khooni Darwaza in Delhi once with a so-called 'body collector', a person who collects dead bodies of homeless or unidentified persons.
"One December night, I accompanied him to collect an unidentified body at Khooni Darwaza. Wearing nothing but a thin cotton shirt, the man had clearly died of cold…" Gupta told Business Standard in an interview.
That was when Gupta realized that clothing as a basic human right was often overlooked. In 1999, he quit his corporate job to start Goonj, with only 67 pieces of clothing that his wife and he had collected.
"I didn't want to give these clothes as an act of charity. Charity strips people of self-respect" he said.
Observing the lack of suitable resources at the time of natural disasters despite the abundant supplies from well-meaning donors Gupta's Goonj works in 21 states across India in disaster relief, humanitarian aid and community development.
Since the traditional exchange of charity denied dignity to those receiving it, in response, Goonj developed a working system, the Cloth for Work program, which initiates village-level development activities and rewards communities for their labor, allowing them to preserve their dignity. Goonj ships over 70,000 kgs of material a month and has also converted 1,000 tonnes of used clothes, household goods and other urban discards into usable resources for the poor.
In 2012, Goonj was chosen by NASA and the US state department as a "Game Changing Innovation" and in the same year, Forbes magazine listed Gupta as one of India's most powerful rural entrepreneurs. Goonj was also awarded the Japanese Award for Most Innovative Development Project by the Global Development Fund.
Gupta's pet project is 'Not Just a Piece of Cloth'. "In villages and slums, where women and girls don't have enough to clothe themselves, menstrual hygiene is really poor. Goonj repurposes old cotton into hygienic pads and uses them to generate awareness about hygiene and the myths associated with menstruation.