For a long time, Indian governments had soft-peddled sustainability. For the first time, India has signaled its sincere commitment to its sustainable future. Most of its policy pronouncements in the current annual budget do reflect intent. What's evident is how it sees the inevitability of mainstreaming and integrating its economic goals with sustainability goals. 
Unmissable in the Finance Minister Nirmala Sitaraman's speech is India's commitment towards energy transition and steps towards building a low carbon economy in the 2022 Budget. For the first time, she sees climate change as an economic and business opportunity. She sees polluted Indian cities as 'centres of sustainable living'. Green energy and green mobility have received both policy and budget support.
India is the third largest polluter and how it executes its commitment to UN Sustainability Development Goals, of course with the help of the world institutions, will determine the future of the planet.
To Masood Mallick, joint managing director, Ramky Enviro, the announcement of green bonds to raise capital focused towards climate resilience and other environmentally focused projects, is a long awaited one. "This will certainly aid local governments to work together with industry for accelerating India's transition to a lower carbon economy."
It's also easy to pick contradictions in India's approach to mitigating climate crisis from the Budget speech of the finance minister.
Here's a list that shows off how 'green' the Budget is:
Allocation of Rs 19,500 crore for production-linked incentives (PLI) for manufacturing of high-efficiency solar modules
Support to use of biomass pellets in thermal power plants that could reduce CO2 by 38 million tons annually
Energy efficiency and savings promoted for large commercial buildings through the energy service company model
Four pilot projects for coal gasification and conversion of coal into chemicals
A focus on agroforestry and private forestry and support to poor farmers for taking up agroforestry
Sovereign green bonds to be issued in public sector projects to reduce carbon intensity of the economy
Blended finance approach to promote climate action, agriculture and other clean technology. This is to be managed by private fund managers
Inclusion of energy storage in the harmonized list of infrastructure
Promoting transit-oriented development for cities
A battery swapping policy
A new bill called The Energy Conservation (Amendment) Bill, is to be introduced soon to provide regulatory framework for

Carbon Trading in India
Encouraging penetration of renewable in energy mix
Effective implementation and enforcement of the Energy Conservation Act, 2001
Address Present Crisis
Any major policy direction needs to take a long term view while addressing pressing present issues as well. It appears this Budget displays strong long-term vision yet it is not doing enough to mitigate alarming current crisis.
For example, critics see weak support to controlling air pollution in cities. India has a majority of the most polluted cities in the world. This falls in the area of common good and getting private funding will be difficult. What India needs is a war on air pollution.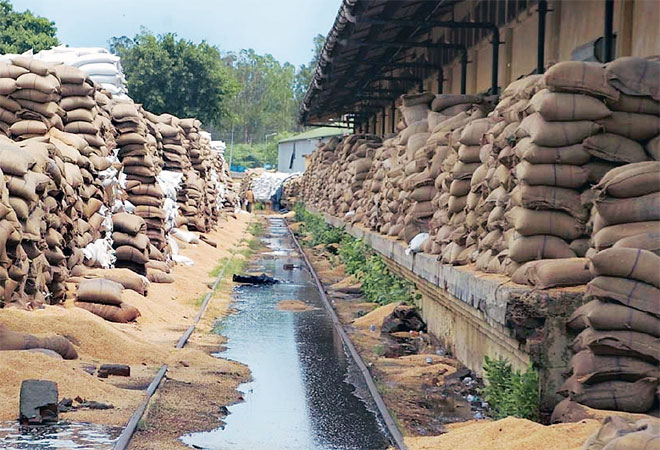 The government is keen to speed up environmental clearance for mega projects by clubbing all approvals into one. This may be prudent but it has to clearly improve transparency and governance standards so that, in the name of efficiency, fragile ecosystem is not compromised. India needs to strengthen its institutions on environmental protection like the National Green Tribunal. We need green tribunals in every state capital as the current NGT is over stretched and over worked. 
India has an awfully weak healthcare and primary education infrastructure. Support to healthcare in the budget seems matter-of-factly without a grand vision. Ramping up health infrastructure, including scaling and skilling para health workers, needs to be accorded top priority.
India has the highest number of children suffering malnutrition even when Food Corporation of India godowns are brimming with grains. According to economist Ashok Gulati, a mammoth Rs. 2 lakh crore capital is stuck because 89 million tons of excess food stock is lying in FCI godowns. It's a shame that we don't seem to take the malnutrition crisis seriously.
This budget can be dubbed 'green' budget', but the definition of green should extend beyond renewable energy and electric vehicles. Massive support is needed for waste management across all sectors, especially treating municipal and water waste, at scale. All Indian cities still have garbage dumps outside them creating major health hazard.
New roads and fancy trains are fine, but India is in dire need of more hospitals, better equipped schools with toilets, and waste treatment plants in every town and city.
a
Support Green Journalism
Dear Readers,
Since March 2013, SustainabilityNext (SN) has been educating and exciting thousands of entrepreneurs, executives and graduate students about the power of Sustainability in influencing our future. It's purpose is to inspire and provoke Indians to move swiftly from awareness to belief to ACTION.

As of December 2021, SN is India's most read digital magazine on the business of sustainability. It has been covering Green Business, Green Products, Social Entrepreneurship, Green Literature, Green Technology, among others. A youth section was added in 2021.

SN launched India's first Green Literature Festival (www.greenlitfest.com) in June 2021 to offer a robust platform for readers and writers to hold meaningful conversations.

For SN to grow and stay relevant it needs to transition from a grant and self-funded model to a community-funded and/or institution/corporate-funded model.
Looking forward to your timely and generous support.
Why Support SN – https://sustainabilitynext.in/support/
All supporters get two-year subscription to SN. You can Gift Subscription to your colleagues/friends/family.

For sponsorships and advertising please contact

Benedict Paramanand
Publisher & Editor
benedict99@gmail.com
a