The Bengaluru-based The Organic World is emerging as India's largest organic retail chain. Find out market trends in organic and natural products and how Gaurav Manchanda is leading this growth literally in an organic way.
Accessible, affordable and authentic – the 3A success formula is common to the success of most products and services. For those in the organic product space, it means everything. That's what Gaurav Manchanda, the founder of Bengaluru's based start-up The Organic World, believes will work as he launches his tenth store recently.
Launched in 2017, Gaurav, an MBA in Strategy and Finance from Boston University, believes in organic growth for his omni-channel enterprise. He doesn't seem to be enamoured by VC-valuation craze among the start-up world currently. "This is not a valuation play," he says emphatically.
Gaurav is the founder director of the Nimida Group, headquartered in Bengaluru. The group is active in sectors such as retail, consumer goods, farming and sports.
He signed up The Organic World with The International Competence Centre for Organic Agriculture (ICCOA) as its knowledge partner. ICCOA's India centre is based in Bengaluru. It provides a platform for interaction to all stakeholders in the organic sector.
"Our goal is to create awareness about the compromises that conventional lifestyle choices have normalised and offer better choices for a healthier lifestyle across the consumption bucket. We offer more than 1500 chemical and preservative free products now and hope to increase that number to 2000 soon."
Edited excerpts of a recent chat with Benedict Paramanand, Editor of SustainabilityNext
Interconnected space of food and sports retail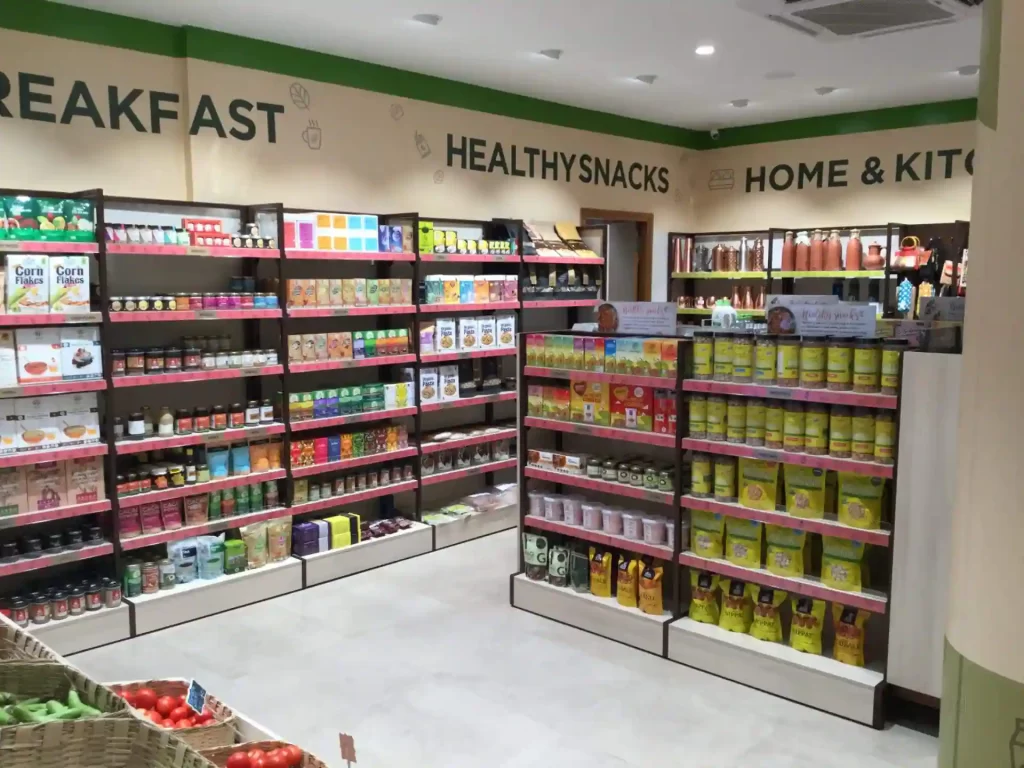 Whatever you see about me, a lot of it is passion driven, especially the both food and retail side as well as the sports side. I think that's an interesting interconnect which we are yet to explore.
The way I look at well-being is there's an active and passive element to it. The active being actually participates in physical wellbeing. There is also a passive element of well-being which includes yoga and some nutrition and what you eat. That's where The Organic World comes into the picture where you're looking at a much more long-term sustainable consumption for your well-being.
The general hypothesis of The Organic World is that people's consumption is compromised. Talking about the element that most don't understand, the sustained harmful effects of certain foods one eats. Of course, you don't see the immediate impact in the short term but the impact does show up in the long term. But you are not necessarily able to attribute it to the consumption.
At The Organic World we create a channel whether offline, online, retail or ecommerce and we provide multiple channels for people to be able to have access to better choices. With that general value proposition is that the foods provided in our stores don't have certain chemicals. We have a list of 25 chemicals that we don't allow in our stores that you typically will find at other retailers.
We have positioned ourselves as a grocer that is organic and natural and the foods that we have are curated so that we don't have certain chemicals in them. So, it's not fully organic but it is certainly a better choice in every possible way. It's not all organic but it is between organic, natural and chemical free.
What's your growth plan?
Right now we have 10 stores. We are looking to increase that numbers to 20 by summer next year across South India especially in Chennai and Hyderabad. We are also getting efficient at launching stores.
In the short term we are looking to expand immediately by doubling our stores by the next year. In the next 5-7 year horizon we could go down the franchise path for spreading pan-India. Right now they are all fully owned by us. We are certainly looking for partners, basically looking for people that believe in this journey and believe in the organic lifestyle.
Market size for organic food and wellness in India
The organic market size is still niche at around one billion dollars. It is moving pretty fast at 25% every year. India is an Agri-economy and food retail size is in the $ 600 billion range. it's a huge market. The organic and natural market size could be in the range of $50 billion.
For customers who want to move towards a healthier lifestyle and they don't have to go through multiple locations and multiple stores to be able to get what they want we are there. If somebody wants to go natural we are a one shop destination. The intent is to provide a very wide range. We have about 1500 different products on our shelves for our core value proposition which is that we have one of the largest ranges in India.
There are multiple ways to kind of slice and dice this. When we look at the Bangalore market we are somewhere in the 12 million people in Bangalore and if we look at the cross-sections of young families, of the age anywhere between 30 to 45 years with one or two children, that would be a comfortable target market. Why I stuck to the slightly younger side for example 30 to 45 years is because they are far more inclined to change, to experiment, to use products that are in direct-to-consumer (D2C) or new age products such as formats like ours.
They are willing to try new products which are not typically time-tested. This segment in Bangalore is somewhere in the range of 500,000 to 800,000 people. Now if we look at the Indian market somewhere between 80 to 100 million people would fall into this bracket.
There are only a handful of organised players in the market with a chain of organic stores in India. With 10 stores (and growing to 20 by 2022) we are currently the largest multi-brand organic store chain in South India (and possibly in India)
Many stand-alone organic stores are closing down mainly because they do not enjoy the benefit of scale.
Premium Consumers are Paying for Organic
The average premium is 1.35x for organic products in general compared to non-organic products. This has to do with the quality of inputs required for high quality organic produce. This premium is coming down based on more players entering production+retailing and as the sector gets more organized.
What's your triple A strategy
So we are trying to bring down the prices of a lot of these products by scale and operational excellence So it comes down to affordability, accessibility and authenticity, these are the three A's that we abide by. We are certainly not trying to be a luxury brand. Healthy options should be affordable and accessible.
Organic World's USP
We are more than just a retailer as we work across the spectrum. We have our own farm, on the outskirts of Bangalore. We experiment with farming methods and share our learnings with neighbourhood farms. We provide consumers farm to home option as well. We're trying to reduce the time from harvest to our stores so that it's not more than 24 hours.
One of our innovations is to offer customers the option of choosing the quantity they prefer with the belief that they should not buy more than what they need and then waste what they don't use. This way we help reduce waste. We have zero waste sections in our stores where they don't need to use plastic bags to pack.
The other key innovation we are proud of is 60% of our last mile delivery is done using electric vehicles. We hope to make it 100% by 2025. We also take back fruits and vegetables that are no longer fresh and make compost from them or feed it to cattle. We try to have a cyclical operation to make sure that what we take, we give back to the soil. So, we try to blend well-being with sustainability principles.
Not having certain chemicals in our stores is actually the industry first. No other retailer takes such a stand. We have taken a stand that we won't allow chemical laced products in our stores. Here's the list (XXXXX) of the Chemicals that have been banned from our stores. This is truly innovative from a retailer standpoint. It is not an easy stand to take, because it is also about driving consumer habits.
Pandemic Effect on Organic World
Interestingly, ever since the pandemic hit in early 2020 we haven't had a single day of closure of our stores. And at the end of the day we are still a daily consumption need, we are still a grocer. So there was certainly a need for our services during the pandemic. I am fortunate in saying that we have a clear path ahead of us. I think we have been doing extremely well as we are going along.
Brand influencers
Whole Foods, which is now an Amazon company was an inspiration. It certainly had high quality products. The other influence was Trader Joes a US-based retailer. The quality of their products is phenomenal. There was almost a cult-like following for that brand. I think these were the two major influences. Whole Foods is largely organic. Trader Joes provides organic, but also provides other options, mostly chemical free options.
About entrepreneurial Journey
I majored in Strategy and Finance during my MBA at the Boston University. I finished in 2012 moved to New York city and took up strategic consulting. After coming back to Bangalore in 2016. Most of my influences are from Bangalore as I was raised here.
With some of my experiences and exposure to some of the retailers and food chains at Boston and New York, I came to realize that people are becoming more conscious about what they eat and want to move towards a healthier lifestyle. That is when we decided to explore this path of figuring out how to improve consumption habits and how to provide better choices. That's when I started pursuing elements of active and passive well-being.
I strongly believe that you got to love what you do because there is a significant level of effort that goes into it. Yes there are many opportunities out there but if you don't really connect with the gap that needs to be filled, I think there is certainly some loss there. You certainly should believe in what you chase. At the end of it I feel that it is not all about playing with the mind, it is also about playing with the heart.
Potential threats
I think we are trying to get the 3A's like accessibility, authenticity and affordability mix right. It is both a positive and negative for us. If you don't make it accessible then that is a threat and by accessibility means by having partners, by reaching and expanding the scale. It also affects pricing and the cost or products. If it is not authentic then it's a problem, and people want something that is authentic, clean and safe for consumption. So it's both positive and negative. It's a double edge.
Dreaming of a $100 million company? I think it's early days. I think next year we would be able to say if we can keep up with that growth. If we keep at it there is no doubt that in five years we should be at that number. But I think it's a little too early to say anything about that. This is not a valuation play. This is something we're looking to build as an organized sustainable stable business.