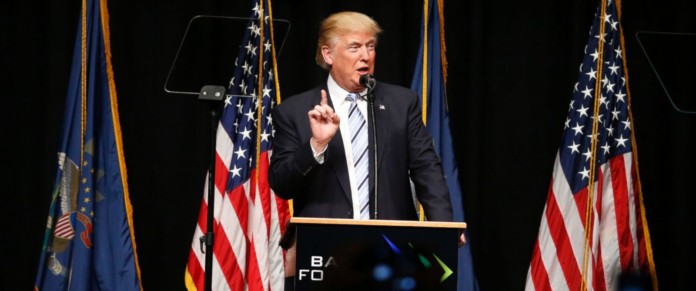 Most people across the world are dreading the possibility of Donald Trump becoming the president of the United States of America and for good reason. His stand that the 'climate change talk is 'bullshit' and a 'liberal hoax' has become a joke.
It doesn't matter on whom the joke is. If he becomes the president and dilutes American commitment to Paris Agreement signed in December 2015, it will be a huge setback to the fight to limit climate change impact, which several parts of the world, including the US, is already facing. The targets set at the Paris Summit may well have to be thrown out of the window.
It is strange that the Republican Party in the US is the only large political party in the world to be in denial of climate change. Most of the Republican Senators in the US Congress ensured that the US did not sign a binding treaty in Paris to cut its emissions but reluctantly made it a voluntary act.
Noam Chomsky, the famous MIT professor and a celebrated critic of the American foreign policy, says: "The US is giving an impression that it doesn't care. It is literally saying 'let's race to the precipice."
Senior Republican members of the Congress routinely indulge in wild conspiracy theories, alleging that all
the evidence for climate change is the product of 'giant hoax.' perpetrated by thousands of scientists around the world.
Popular Economist Paul Krugman wrote in the New York Times on 4, Dec 2015: "The US Republicans are unique in refusing to accept that there is even a problem. Unfortunately, given the importance of the United States, the extremism of one party in one country has enormous global implications."
A frustrated President Obama has said that "Republican opposition to the Paris Accord and the denial of climate change itself will not be sustainable."
An unequivocal collusion of Republican Party's and business interests (read oil companies) has become apparent in deliberately orchestrating the denial of climate change implications. As President Obama said, Trump and his party are 'outliers' in the climate change game.
'Climate Hustle'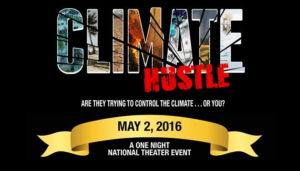 A new film titled 'Climate Hustle,' purports to expose climate change as a gigantic fraud. The publicity department for "Climate Hustle" assures the public that global warming is "an overheated environmental con job being used to push for increased government regulations and a new 'Green' energy agenda." This movie, we are told, "will tear the cover off of global warming hype."
How is it possible to deny such overwhelming evidence that global warming is real and humans contribute to it?
Psychologists say at the core of climate change denial is the brain's confirmation bias – a natural tendency to seek and interpret facts in a way that confirms our pre-existing beliefs. "Nobody wants to be wrong, and that elicits confirmation bias, which is when we seek out information that confirms that we believe to be true," Dr. Robert Gifford, an environmental psychologist at the University of Victoria," told a columnist recently.
Others say they don't trust scientists, and listen instead to high-profile skeptics. Add to this equation a distrust of experts and scientists, a psychological phenomenon known as  'discredence, and you've got a recipe for denial. Mistrust of scientists is a growing issue — and for people who don't trust scientists, scientific evidence clearly doesn't carry much weight.
India and China may not be influenced by what happens to the US elections in 2016 on the climate change front. China has started, perhaps the boldest initiatives to cut back on emission of greenhouse gases.
This year's drought and its serious impact have got Indians very serious about finding long term solutions to dangers of climate.