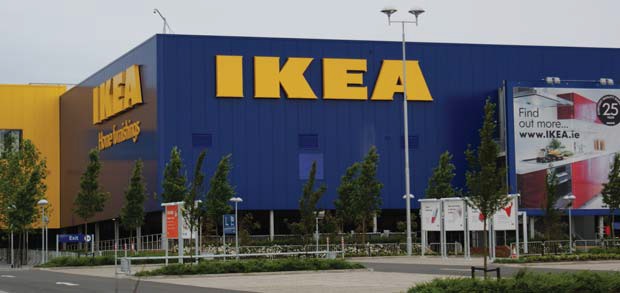 Swedish multinational and world's leading home furnishing retailer IKEA announced it is investing one billion dollars globally to reduce carbon pollution. IKEA is yet to finalize the locations of its stores in India — it is in various stages of finalizing locations in Telengana, Haryana, Maharashtra and Uttar Pradesh.
Speaking to ET, Steve Howard, Chief Sustainability Officer, IKEA Group, said: "When we do open up our stores in India we will set up renewable energy sources for our stores, including solar panels on the roof tops and car parks. But in the meantime, we are working in partnership with our suppliers, sometimes even co-financing efforts to reduce our carbon footprint, improve energy efficiencies."
IKEA has been sourcing from India for nearly three decades. It is presently working with nearly 50 suppliers. IKEA's India office works with these suppliers, monitoring their competence levels concerning quality, compliance, sustainability especially the use of water, energy and chemicals.
IKEA is proud of some of its suppliers' green achievements. Asian Fabrics has successfully decoupled from grid, which is dominated by coal-fired power by moving to solar and wind sources. It installed a 1.5-MW photovoltaic array and four wind turbines generating 20 MW of energy and in doing so achieved 100% energy independence.
Howard said that if the existing initiatives are replicated by other South Asian suppliers then there is a potential to save more than 241 million ($300 million) in energy, water, and resources cost over the next five years. As part of the company's Supplier Goes Renewable Initiative, energy audits at four suppliers in India have identified potential savings of 11,199 MW, which translates into reduction of 4,813 tons of carbon dioxide emissions.
The 1 billion that IKEA will spend globally on climate action would go to — 500 million on wind energy, 100 million on solar panels, and 400 million through the IKEA Foundation to help vulnerable communities which are already dealing with the adverse impacts of climate change.
The IKEA Foundation, the company's charitable arm, already works with communities in India, particularly in the cotton growing belt. Of the 120,000 cotton farmers it works with globally, a large section comprises Indian cotton farmers. The foundation's work in India has been focused on ensuring that children of cotton farmers are in schools and not working and in empowering women with job skills.