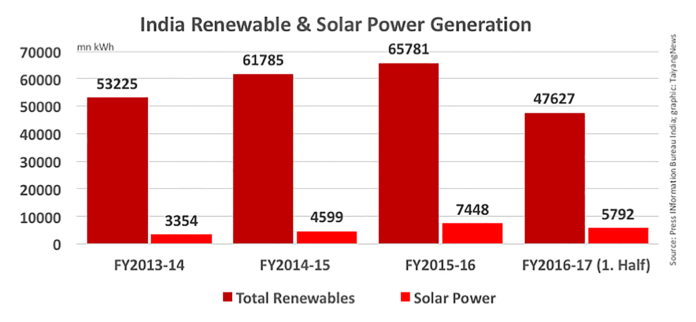 Early February 2017, TERI unveiled the findings of its study in a report titled "Transitions in the Indian Energy Sector – Macro Level Analysis of Demand and Supply Side Options". This report was released alongside ETC's report titled "ETC Electricity Decarbonisation Report" and INAE's report titled "Priorities for Enhancing Renewable Energy Development in India". The reports were released by Shri Piyush Goyal, Minister of State for Power, Coal, New and Renewable Energy and Mines, Government of India.
The TERI report indicates that current installed capacity and the capacity under construction would be able to meet demand till about 2026, keeping India power sufficient. The report estimates that no new investments are likely to be made in coal-based power generation in the years prior to that. It also estimates that beyond 2023-24, new power generation capacity could be all renewables.
The event was graced by the presence of Mr Pradeep Kumar Sinha, Cabinet Secretary, Government of India; Mr Susheel Kumar, Secretary, Ministry of Coal; Mr Rajeev Kapoor, Secretary, Ministry of New & Renewable Energy; Mr A N Jha, Secretary, Ministry of Environment, Forests & Climate Change; Mr. Ashok Lavasa, Finance Secretary and Secretary (Expenditure), Ministry of Finance; Ms Shalini Prasad, Additional Secretary Ministry of Power; Fellows from the INAE; representatives from the corporate sector, including the Tata Group; and research organizations, including the Council on Energy, Environment and Water (CEEW), Centre for Policy Research, Centre for Study of Science, Technology and Policy (CSTEP).
The INAE report captures the Engineering Interventions Necessary for Achieving 175 GW of Renewable Power by 2022. Mr. BN Suresh, President, INAE, said "Indigenous manufacturing of renewable energy components such as solar PV cells and modules will benefit through job creation, reduce reliance on imported technology, and strengthen India's position as a manufacturing hub in line with 'Make in
India' initiative."