Wilma Rodrigues is one of India's prominent social entrepreneurs. She was named the Social Entrepreneur of the Year in 2015 by Action for India, a platform that supports social entrepreneurs to scale their businesses. Started as an NGO, Wilma's venture Saahas Zero Waste in 2001, handles 300 tons of waste every day. Saahas has started operations in Chennai, Goa, and Hyderabad. Wilma has built this venture with a lot of courage and grit.
Her courage and entrepreneurial flair got her venture funding recently. This has helped her to convert her company to a private limited firm where she is the CEO. Wilma is an evangelist for reducing waste, especially in large businesses. Saahas Zero Waste largely works as a B2B waste management company. It has helped several companies reduce waste through innovative practices.
Saahas has successfully partnered with multiple corporate giants and educational institutions, including the State Bank of India and IIM Bangalore, to implement resource recovery systems that divert waste away from landfills. With a unique business model that balances profitability with sustainability, Saahas is not just cleaning up waste but also reshaping mindsets, advocating for waste to be seen as a resource rather than a burden.
Wilma believes that waste management in India has a long way to go, but her journey offers a blueprint for creating responsible and profitable waste management systems. The challenges are many, but with the right mindset and business model, she insists, they are not insurmountable.
Benedict Paramanand, Editor of Sustainability Next, in a candid interview, sat down with Wilma Rodrigues to delve into the transformative journey of Saahas and explore her vision for a landfill-free future in India. Edited Excerpts:
From an activist to a social entrepreneur, could you walk us through your journey?
The year 2001 was pivotal for us. That was when the municipal solid waste rules were introduced in India. We started as a not-for-profit organization focusing on awareness campaigns and small-scale solutions like community composting. However, we soon realized the limitations of operating solely as an NGO.
It became clear that waste management needs a full-fledged system, involving all stakeholders from households to corporates and the government. That led us to establish the second entity of Saahas as a social enterprise. This model ensures a more systematic and accountable approach, as everyone has to take responsibility for the waste they generate.
Has the transition from a not-for-profit to a for-profit organization been smooth?
The change was not just a matter of paperwork but also a shift in mindset. We carried over many of the same team members from the NGO into the for-profit venture, and we all had to adjust to this new operational structure.
You've had this business model in place for about a decade. What have you learned?
One of the biggest learnings is that you absolutely need a business model for holistic waste management. There is a general lack of understanding about waste management at all levels—government, corporates, and even the general public. The prevalent mindset is still that of disposal rather than responsibility.
Today, we own the waste of our customers and ensure 96% resource recovery. We also take the livelihoods of those working with waste very seriously, ensuring they are paid living wages. The regulations and terminologies like 'circular economy' are there, but implementing them on the ground is the real challenge.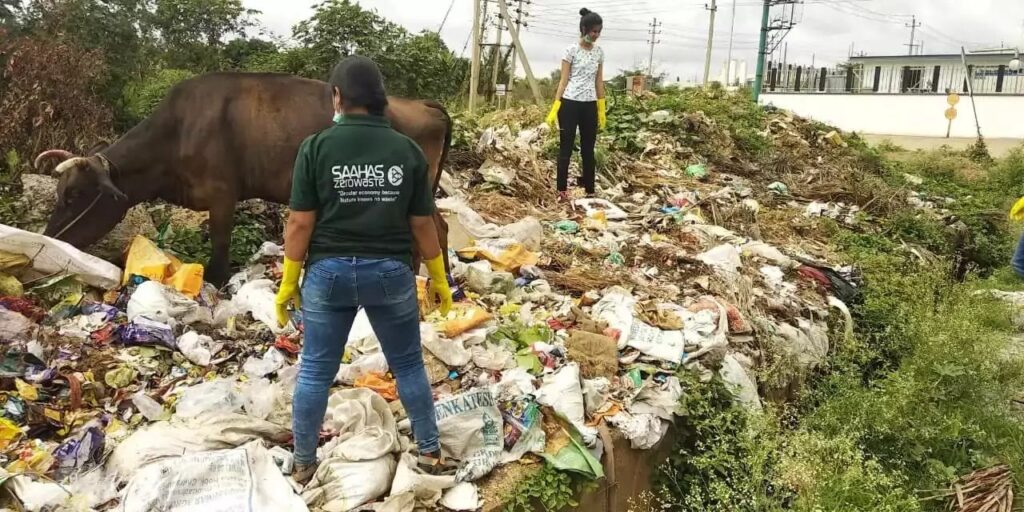 Could you elaborate on the mindset change required for effective waste management?
Currently, the mindset is still fixated on disposal. People put their waste out, assuming it's not their responsibility anymore. This has to change. As a private limited company, we take the responsibility of tracking and tracing the waste to ensure it reaches its end destiny in an eco-friendly manner. This creates a system where everyone is accountable for their waste, benefiting not just the environment but also those whose livelihood depends on waste management.
You've managed to get various MNCs and institutions like the State Bank of India and IIM Bangalore on board with your B2B services. Can you discuss the potential of this approach?
Yes, in an urban environment like Bangalore, nearly 40% of waste is generated by large campuses or bulk generators, such as tech parks and educational institutions. The potential is enormous, given existing regulations that mandate proper resource recovery systems. However, we are still in a niche segment, managing only about 100 tons of waste per day across India. The real potential can only be tapped if more organizations, particularly start-ups, adopt this approach.
What are the three steps you recommend for the government and society to ensure at least 60% of waste is cut in the formal sector?
First, I'd emphasize the need for dedicated spaces for waste management facilities in every large campus or bulk waste generator. The property developers should actually allocate the mandated 5% of their space for waste management, as policy dictates. Second, extended producer responsibility policies for plastic, e-waste, and soon, textile waste, should be followed by all large companies. Lastly, effective implementation of the zero-waste policies should be our collective priority.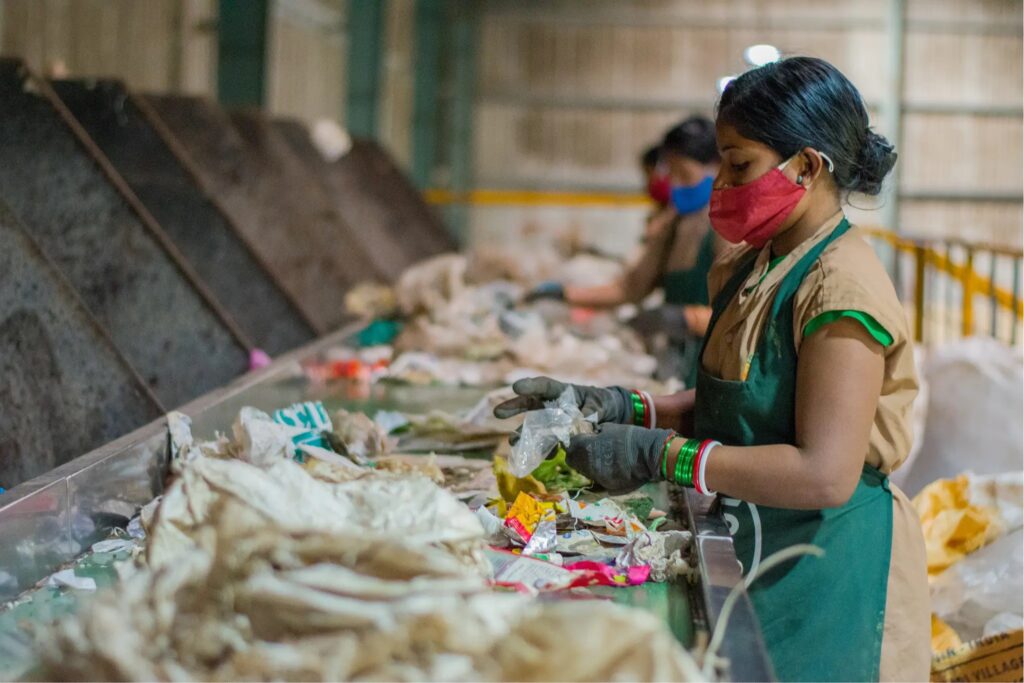 What is your vision for achieving a landfill-free Bangalore, and potentially, a landfill-free India?
I envision a dual system for managing waste, combining both centralized and decentralized methods. For instance, wet waste can be managed locally, while dry waste can be collected and processed centrally. By doing this, you're only left with 10-15% of residual waste, which can then go to cement kilns for co-processing as an alternative fuel.
The remaining landfills should be sanitary landfills that come with an environmental cost for their use. This creates a financial incentive to manage our waste responsibly, focusing on resource recovery rather than dumping it in a landfill.
This leader's vision aligns with the pressing need to address waste management sustainably in India. A concerted effort from the government, the corporate sector, and society at large is required to transition waste management into the formal sector, thereby bringing us one step closer to a landfill-free nation.
What are the five lessons you'd like to impart to social entrepreneurs based on your journey?
The journey of a social entrepreneur is a complex and challenging one, with multiple layers of responsibility and impact. The key takeaways would be:
Authenticity and Focus: Being authentic in your approach and focusing on the key issue you're addressing. For waste management, it's about resource recovery and the circular economy.
Commitment to Mandate: We all have our specific missions when we come into this space. It's essential to stick to that mandate without diluting it due to external pressures.
Monitor Impact: Whether it's environmental or social, monitoring the impact of your work is crucial. It helps you stay aligned with your objectives.
System Building and Service Delivery: Being able to continually improve and deliver on your service promises is vital, especially when operating in fragmented ecosystems.
Team and Investor Management: Maintaining a harmonious team while satisfying the expectations of your investors is one of the hardest challenges. The choice of investors should align with your mission to prevent the dilution of your mandate.
What is your vision for the next five years for Saahas and personally?
A: On a personal front, I see myself moving towards a mentorship role, allowing the next generation to take the reins at Saahas. The team is ready for this transition, and it's an exciting new phase for the organization.
As for Saahas, we're at a critical juncture with various kinds of waste including plastic, e-waste, and textile waste reaching alarming levels. Saahas is well-placed to continue and even expand the great work we've been doing for the last decade. The focus will continue to be on decentralized waste management and advancing towards zero waste.
Through these insights, we gain an in-depth understanding of the complexities of social entrepreneurship and the road ahead for Saahas. There's a dual responsibility: to implement and scale solutions for better waste management while fostering a new generation of social entrepreneurs. It's a daunting but fulfilling mission, and the leader of Saahas is poised to guide the way.
Edited by J Shiruti