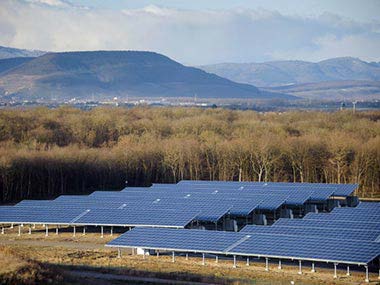 Major oil companies in India like Oil and Natural Gas Corp (ONGC) and Indian Oil Corp (ICO) are planning to launch new companies dedicated to renewable energy. The collaboration is supported by GAIL, Engineers India Ltd (EIL), Solar Energy Corp of India (SECI) and Indian Renewable Energy Development Agency (IREDA).
The collaboration plans to set up a special purpose vehicle (SPV) to undertake big electricity grid-connected projects. Another SPV led by IOC will be set up for off-grid projects. It will include participation of companies like Bharat Petroleum Corp (BPCL), Hindustan Petroleum Corp Ltd (HPCL) besides SECI and IREDA.
Commenting on this collaboration oil secretary for the Government of India, Vivek Rae said the collaboration aims at leveraging the financial and managerial strength of the companies to scale up renewable energy projects and manage the complexities of small projects. The government is looking at ultra mega projects of up to 500 MW at a cost of Rs 6-7 crore per MW. After completing the feasibility studies, the two SPVs are likely to be incorporated by August 15.The move is likely to boost the renewable energy industry in India. India has been ranked the fifth in wind energy installations with over 20,000 MW of capacity installed at the end of 2013, according to information available at Global Wind Statistics.