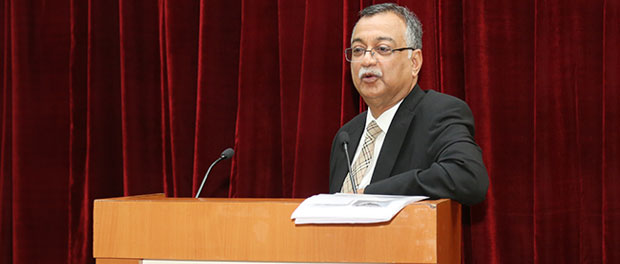 Dr. H Sudarshan Ballal, Chairman, Manipal Health Enterprises, wants access to basic healthcare to be made a fundamental right. He believes India desperately needs a holistic care system that is universally accessible and one that effectively reduces out-of-pocket expenditure of the underserved. Dr. Ballal was addressing a conclave on 'Affordable Healthcare — Building India's Future Health Economy', jointly organized by SustainabilityNext, IIM Bangalore's Centre for Corporate Governance and Citizenship (CCGC) and Centre for Public Policy at IIM Bangalore, on 18 February 2017.
Even though, India is a developing nation we have diseases of both the developed and developing countries. We have not yet conquered communicable diseases like malaria, TB, H1N1, among others, and we are also hit by lifestyle diseases like diabetes, hypertension and heart diseases in a big way," Dr. Ballal said, emphasizing that India's challenge was not bringing modern healthcare to the country, but in making it affordable and accessible to the majority of its citizens. "Just as our economic reforms have not touched the common man the healthcare boom has also failed to touch the common man and this is a dangerous social trend that needs to be addressed," he remarked.
Dr. Ballal said: "We must invest in preventive and primary healthcare, we must have policies that promote wellness rather than treat illness, we must incentivize rural healthcare and bring in universal insurance coverage, we must reduce the cost of healthcare by innovation and local technology by levying less duty, we must use the PPP model especially in tertiary and quaternary care and we must promote CSR in healthcare."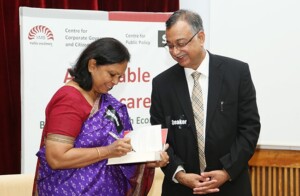 Dr. Ballal's keynote was followed by the book launch of 'Do we Care?' authored by Dr. K Sujatha Rao, Former Union Secretary, Ministry of Health and Family Welfare, Govt. of India.
Dr. Sujatha Rao called for a civil society movement to force political leadership to significantly enhance investment, regulation and governance of basic healthcare system in India. She wants people to push the healthcare agenda in the elections of the states and the centre. See review of 'Do We Care' here. https://sustainabilitynext.in/book-review/is-there-a-vision-for-a-healthy-india/
"Relying only on the private sector for healthcare will not work – just look at the fragmented nature of healthcare in the US," she observed. "Education for doctors is free in Europe, they give stipends. Here, we rely heavily on private colleges, some of whom are fraudulent," Rao said. Even the quality of education in India is lacking – many graduates still need training after they join the hospitals.
The conclave facilitated conversations among various stakeholders so that the pain points of affordable healthcare are addressed and better linkages built, thereby offering immense opportunities for meeting the healthcare demands of the poor. The experts who addressed the participants opined that the affordable healthcare segment offered vast prospects for investors and start-ups while offering career opportunities to professionals.
"We have launched affordable products based on Indian medicine, such as Liv52," said Vijendra Prakash, In Charge – Regulatory Affairs, Himalaya Drug Company. He advocated more usage of Indian medicine in rural areas, as well as an integrative approach with Allopathy, Ayurveda, yoga, and so on.
Healthcare reforms tend to be more of a 'stepping stone' nature than 'big bang,' observed Somil Nagpal, Senior Health Specialist, World Bank. Trends to watch out for include group purchase of benefits, digital IDs, performance-based payment, accreditation systems, and better data collection.
"We need to focus beyond trivial problems or rich people's problems. We need more entrepreneurs to solve India's really hard problems, such as affordable healthcare," said Naga Prakasam, Mentor at NSRCE, IIMB. He is also an investor in Acumen Fund, and an active member at Indian Angel Network and Native Angels Network.
"Healthcare has lots of intermediaries, there is a need to improve efficiencies of these resources," said Karuna Jain, Associate Director and Global Health Lead, Acumen Fund. The company is focussed more on primary healthcare in India, and less on secondary and tertiary health.
"Simple well-designed products can have significant impact in healthcare," said Paul Belknap, Investment Manager at Villgro Innovations Foundation. The company looks for hardware tech validation as well as evidence that the product fits in the doctor's workflow, is accepted, and can reduce costs or increase access.
The traditional healthcare model of standalone, Internet-based, reactive, and single type of service is now morphing into the transformative healthcare model, said Guruprasad S, Senior General Manager for Engineering Healthcare at Robert Bosch Engineering and Business Solutions. The new model is connected, powered by IoT, customised, and focussed on preventive healthcare and wellness.
To succeed in this space, startups should go beyond 'happy engineering,' he advised. "Startups should develop perseverance beyond the prototype, where the real world hits you," said Guruprasad. The healthcare spectrum now spans prevention, diagnostics, therapeutic, and rehabilitation.
"Mental healthcare is largely unaddressed worldwide, particularly in developing countries. Depression is ranked only next to heart disease as the leading healthcare challenge in most countries, including India," explains Sushil Eapen, CEO of Silver Oak Health. Founded in 2015, the Bengaluru company specialises in behavioural challenges like anxiety and depression.
There were also pitches from four startups: Stasis Labs, 1Bridge, Dozee and MedYog. They offer solutions in areas like hospital patient tracking, sleep quality indicators, home diagnostics, and rural healthcare Other presentations were by FirstLife, Business Domain Healthcare of Robert Bosch Engineering and Business Solutions Pvt. Ltd. and Silver Oak Health.
To read more about the conclave: https://yourstory.com/2017/02/affordable-healthcare-conclave/
https://yourstory.com/2017/02/affordable-healthcare-emerging-opportunities/
https://yourstory.com/2017/02/healthcare-hardware-healthcare-opportunity/