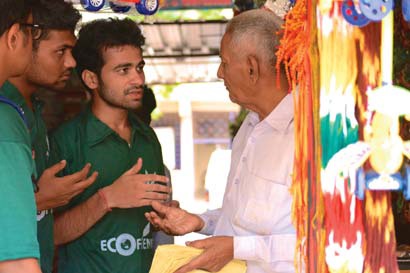 "Godavari Pushkaralu", the 11 day festival that began on 14th of July 2015 witnessed a green drive by the students of the Environment Club of Mahindra Ecole Centrale.
Mahindra Ecole Centrale, an Indo-French engineering college, is the maiden education venture of the Mahindra Group. The college focuses on creating the 'New Engineer' who is highly attuned to her environment. As part of this, MEC students ran a campaign to educate vendors near the Basara temple about eco-plastic or minimizing plastic pollution during Godavari Pushkaralu.
A large amount of plastic waste gets generated at Basara during Godavari Pushkaralu as nearly half a million devotees pay visit the temple each day.
MEC students' "go green" campaign involved banner displays, personal interaction with shopkeepers to sensitize them about the issues and request them against using plastics during the festival. They also contributed to the campaign by funding non-plastic bags. Based in Bahadurpally, Hyderabad, MEC is situated in a sprawling green campus of 130 acres. 240 students take the 4-year B.Tech Program.