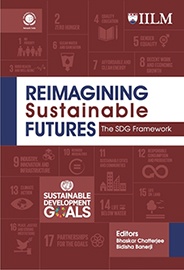 It's nearly four years since the 17 Sustainable Development Goals were adopted by most nations in 2015 for achieving them by 2030. The debate about whether the world has made progress or is it in denial or has it indeed made noticeable progress is on. It depends how and where you look. This is a good debate.
The good news is that a lot of high quality literature is being published today across the world and also in India on climate change, sustainability and business responsibility. To add to it, several magazines and blogs are easily accessible and affordable. Conclaves and conferences are galore.
The big challenge today is how to get the world to think and act about SDGs bottom up while the top down appears to be scrambling it way out. That's where this book is relevant particularly in the Indian context.
This is a collection of seven papers. Each is an invitation for fresh thinking and approach – especially by business, civil society and more importantly, to look at the interconnectedness of all the SDG goals. It calls for an integrated strategy, especially CSR with sustainability.
This book is valuable for businesses that are serious about their responsibility to all stakeholders. It's a good guide for senior leadership to take CSR beyond the narrow window of compliance to net positive impact. To go beyond value creation to investors to value sharing with all stakeholders.
The authors' emphasis on transforming the education sector by embedding sustainability thinking at an early stage is a point well made and articulated. It has frameworks about how sustainability can be integrated into the current curriculum. Malala Yousafzai's quote "All SDGs come down to education" is apt.
The chapter on culture as the fourth bottom line – the Triple Bottomline being People, Profit and Planet – is very well articulated. It discusses the challenge about non-measurability of culture because its outcomes are intangible while the other three are measurable. The author argues that "The unsustainable world is today compelled to agree that it is the intangibles that are going to be more significant determinants of current and future wellbeing – the social license to operate, the environmental conservation imperative, qualitative determinants such as trust, engagement, stakeholder voice, the non-market forces and so on are emerging as the stronger influences on value in the future and living in the future."
Indophiles believe India will do well with the SDG goals because of its cultural roots. Already reports suggest India is way ahead of many large economies on compliance with 2015 Paris Agreement goals.
This book seems like a compelling read for business leaders and also academia of all streams.
By Benedict Paramanand