Rapid growth of rural business process outsourcing (RBPOs) or ISSPs (Impact Sourcing Service Provider), a new term coined by Nasscom, is hit, like most entrepreneurs in India, as supporting environment on the ground is falling way short of promise.
Yet, for S R Pejavar, co-founder of Simply Grameen Business Solutions, growth prospects of this sector is highly promising. It can grow much faster than the project 20% a year. "Even bigger BPO players are planning to enter this segment. Clients' trust on rural BPOs is getting better since the last two years."
Simply Grameen runs four rural BPO centers employing 600 people (nearly half women) in Krishnagiri (Tamil Nadu) and three in Karnataka – Maddur, Kundapur and Bellary. It has plans to expand to ten centers in the next three years.
"Simply Grameen is at an inflection point. It is in the process of raising funds to finance its expansion." he told SustainabilityNext. It runs a 100-seater centre for Tata DoComo. The company is self-funded so far has been growing at 100% year in the last five years.
RBPOs grew rapidly in the early years of this decade with first movers like Rural Chores and Next Wealth. It held big promise of limiting frenetic migration to urban centers. But its rapid growth seems to be constrained as infrastructure and finance support are lagging way behind demand. Says Pejavar, "Due to widespread lack of reliable power, risk-averse banking system (which is not offering overdraft facilities even to firms with clean balance sheets), we are not able to grow to our potential."
On what RBPOs need, Mr. Pejavar says, "We need active government support. We need better data and voice network connectivity in smaller towns. Second, very important factor is reliable power supply – we cannot run our centers on generators which pushes up our cost and is bad for the environment. Also, public transportation capability needs to be enhanced so that the companies don't have to bear transportation cost."
Nasscom estimates show that RBPO can reduce BPO costs by around 40% compared to typical urban BPOs can bring down attrition from 40-60% to 8-12%. RBPOs have been able to leverage local talent in tier two and tier three towns across the country. They have a multiplier impact on the local economy as support facilities mushroom around RBPOs.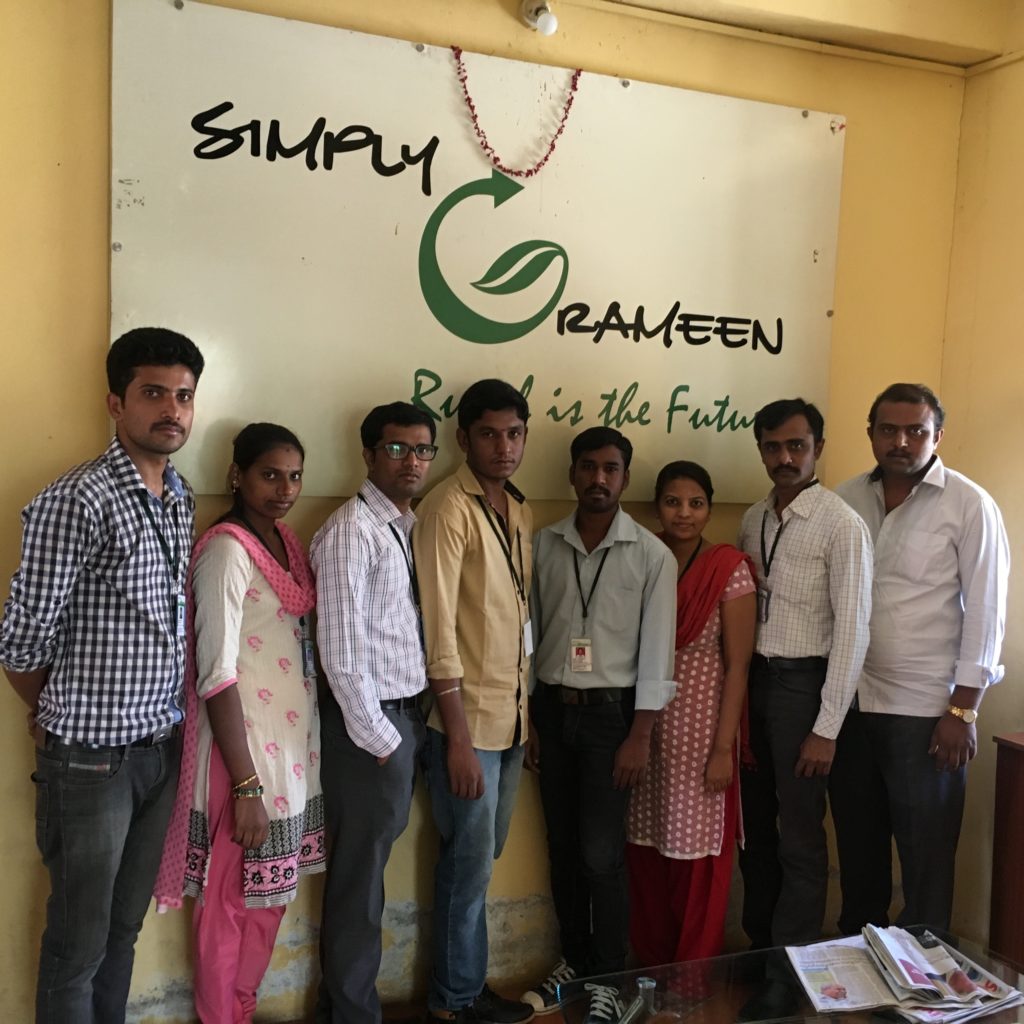 Simply Grameen co-found Pejavar Sarvotham represents India's new generation of entrepreneurs – who quit lucrative jobs to start a business. A better ease-of-doing business could help many to take the leap.
Pejavar has more than 24years of global experience in Technology, Operations and Customer Management in leading Financial Service Organizations. He worked with Wipro, ANZ, Deutsche Bank, DBS Group in early part of his career before joining Standard Chartered Singapore in 1995 as Programme Manager for Custodial Technology Services for AIA region. He is working in coordination with Karnataka Government on drafting more friendly RBPO policy.
"Although the policies are there, implementation on the field is not there."
Specific demands of RBPOs
The government should push the corporates to go to tier 2 and tier 3 towns with attractive incentives.
More than subsidy, you need to focus on sustainability of firms. We want the government to provide the environment. We need support during the first few months of our operations in terms of statutory obligations.
Scams happen because of subsidies driven approach. Even the banking system is not attuned to supporting entrepreneurs with overdraft facilities even for a profitable firm without collateral. If the government can offer concession on interest rates, it would be very useful.
Future Plans
Become BPO of Choice in the emerging T2/T3 towns by creating at least 20 RBPO centers across India with uninterrupted state of the art infrastructure
Scale-up to a minimum 250-300 staff strength in each of the existing centers
Implement hub-spoke operational model
Move up the value chain with the current clients
Leveraging experience of the leadership and management team of industry and domain experience
Building an environment of great place to work