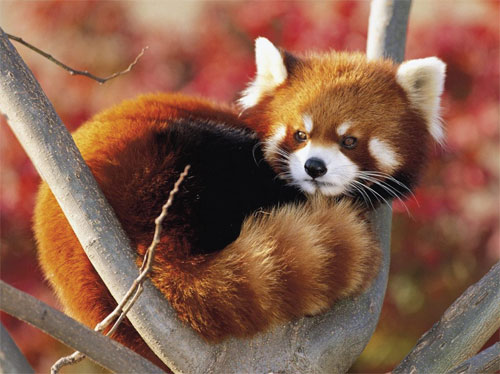 Protecting animals like Tigers and Red Panda not only prevents their extinction, its impact is felt on the habitat they thrive in. Tata Housing has embarked on protecting the rich and diverse eco-system of the Indian North East, home to red panda, as part of its sustainability strategy.
Red panda is the indicator of the health of temperate forests. A healthy red panda population indicates undisturbed temperate forest with oak, conifers and rhododendron interspersed with bamboo. Red panda is found in four states of India – Sikkim, Arunachal Pradesh, Meghalaya and West Bengal. Major threat to red panda survival is poaching for its skin and also capturing of cubs for pets. Red panda shares its habitat with globally threatened species like musk deer, gaur, clouded leopard, common leopard and satyr among others. Through its tie up with World Wildlife Fund, Tata Housing helps in implementing management plans to secure the red panda habitat. Indirectly, this helps in the conservation to other species as well.
The good news is that strict protection accorded to wildlife by the local community after the formation of the Community Conserved Areas (CCA) seems to have had a beneficial effect on animal populations, including the rare red panda in a few zones.
Tata Housing's sustainability strategy?
Tata Housing believes that the primary purpose of business is to improve the quality of life of people in the communities in which it operates. It has adopted triple bottom line (TPL) approach to business and endeavours towards equilibrium of people, planet and profit. Says Brotin Banerjee MD & CEO, Tata Housing in his sustainability report: "We have become one of the top real estate players in India in the residential segment and this has been possible because of our adherence to sustainability principles across the value chain of the organisation – a creative corporate culture, ethics and governance beyond compliance, customer centricity, operational excellence in green construction, employee engagement, treating suppliers as partners and shared growth with community and environment."
The company's integration of its sustainability strategy and business strategy is reflected in its comprehensive Sustainability Vision, which is: "We will build sustainability into everything we do so that our profitable growth helps reduce inequality and rejuvenates the environment." The company has mapped its value chain, identified the social and environmental dimensions of its competitive context and leveraged its core-competencies in addressing those elements strategically from a long-term perspective.
Its strategy has been to build green homes using alternative technologies and alternative materials which are sustainable. It has adopted greener construction technologies like Precast, Reinforced Hollow Concrete Blocks (RCB) and Mivan. It has mapped its carbon footprint across the company and has developed a roadmap for carbon footprint reduction as well as carbon abatement for the next 5 years. It is doing exceedingly well in achieving its carbon abatement targets. It has initiated steps to measurethe water footprint too which will help us develop plans to reduce water consumption.
The company engages closely with communities around the company's project sites, focusing on affirmative action for SC and STs, vocational skill development in construction related trades, educational development, environmental sustainability and community infrastructure development.
Coping with government direction on CSR spending
The company has been following a unique CSR budgeting policy which stipulates spending of 1 % of the net profit of the preceding year in CSR at the corporate level. In addition to that, six rupees per square foot in case of each premium and luxury projects and four rupees per square foot in case of each affordable and value housing projects are spent towards CSR initiatives. Together, the company spends more than 3 % of its net profit of the preceding year in CSR.
Achievements in the last 5 years and plans for the next 5 years
All the Tata Housing projects are Green buildings either precertified or certified with USGBC/IGBC certification. Tata Housing is one of the major contributors in achieving 1.51 Billion square feet of IGBC certified green building footprint in India. It has over 55.4 million square feet of registered green building footprint, of which 8.8 million square feet have already been certified.
In the year 2010-11, the company developed the roadmap for carbon footprint reduction for 5 years and carrying out carbon footprint assessment of all our projects since 2009- 10. In the year 2012-13, it achieved 22% reduction in the carbon footprint against the target of 10%.
Rainwater harvesting and/or ground water recharging and water efficient systems have been designed and implemented in all of the projects. Water efficiency measures like use of gypsum plaster, use of curing compounds and use of treated waste water have been implemented which has resulted in conservation of fresh water by about 19,184 KL in the year- 2012-13.
In the year 2013-14, the company initiated the water footprint mapping and plan to develop a roadmap to reduce consumption of water. Energy audits of the office buildings also have been initiated and plan to introduce energy conservation activities at all offices across India. The company also conducts energy audits at sites to review construction activities and minimize the energy use in operations.
During the year 2012-13 the company spent INR 25 million in the focused CSR intervention areas viz. Tata Affirmative Action, Vocational Skill & Educational Development, Environmental Sustainability, Local Community Infrastructure Development and Employee Volunteering.
Challenges of achieving sustainability targets in India in the housing sector?
The housing construction sector has a major environmental impact as it is the main user of primary resources like steel, cement, sand etc; a major user of energy and producer of carbon emissions; and creates large amounts of waste. The challenge to manage natural resources is using recycled and alternative materials in lieu of virgin materials like fly ash, gypsum plaster, which also help reduce carbon emissions. Some companies are using innovative ideas like use of pervious concrete or use of bio-enzymes which reduces use of cement for roads for road development; use of steel couplers instead of conventional overlap; reduce concrete consumption.
Why do Green Homes cost more?
Green homes cost 5% to1 5% more because the capital cost of project increases with the use of alternative technologies and alternative materials which are required for designing and building Green Buildings. The alternative technologies used in green homes like renewable energy sources – solar and wind energy solutions, hybrid DG sets, low UV glass, insulation materials, energy efficient lighting & equipments, water efficient faucets & fixtures have more capital cost than the conventional. The use of alternative materials like AAC & Porotherm blocks in place of red bricks increase the capital cost of green homes.
Affordable Homes Strategy
In order to minimize the cost of construction Tata Housing has uses various low cost construction technologies. In our affordable home projects in Ahmedabad we have used Reinforced Hollow Concrete Blocks (RCB) technology which reduces usage of materials as well as labour cost since it does not require specialized labour. Another project in Bangalore uses Pre-cast technology where there is reduction in time of construction from 4 years to 2.5 years, thereby saving of interest cost by 50% and reduction in total cost of the project by more than 5%. It gives improved quality of construction and minimal wastage of materials and better inventory management with timely delivery.
Tata Housing's 48 % of the product mix consists of Value Homes (ShubhGriha) and Affordable Homes (New Haven), catering to the housing needs of the lower-half of the pyramid, a cause immensely dear to the philosophy of the company. There is always a huge opportunity lost in selling value homes at a cheaper price to customers who cannot afford housing at the prevailing market rates. Yet Tata Housing has been serving the marginalised groups, who have less income through its ShubhGriha offerings.
In spite of selling at a low price, the affordable housing and values home are designed in accordance to Green Building norms as prescribed by IGBC with a Silver rating. While serving the low income community, we ensure that the projects are environmentally and economically sustainable.