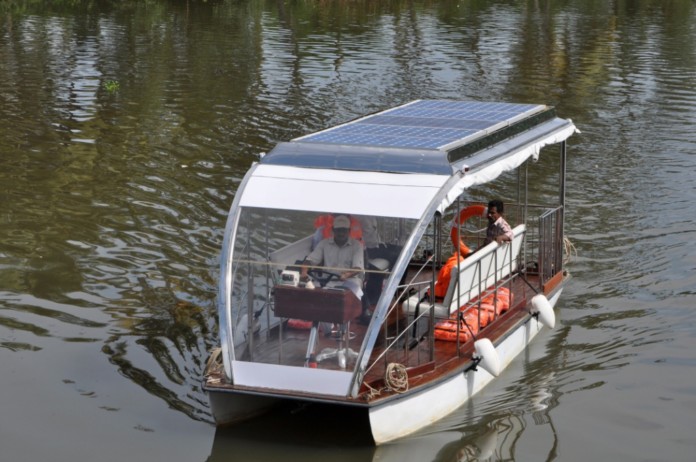 India's first solar ferry called 'Aditya' sailed on Kerala's backwaters in November 2016. The 2.5 km Vaikom-Thavanakadavu section in Alapuzha district is ready for commercial operation. The 75-seater solar boat was constructed at a cost of Rs. 2 crore by Navalt, a joint venture of two French companies and a Kochi-based Indian company. The 20 metre-long and 7 metre-wide boat made of fiber glass can cruise at a maximum speed of 7.5 knots. The boat, powered by two 20 KW motors, cruises without any noise and minimal vibration compared to the normal diesel ferries.
"On a bright sunny day it can cruise for over six hours without the need for external charge. It has 78 rooftop solar panels. It has a 700 kg 50 kW lithium-ion battery to store energy for cloudy days or running at night. There is an option to charge the batteries from the grid as well," said 38-year old IIT alumnus SandithThandassery, founder of NavAlt Solar and Electrical Boats Ltd. The solar boat can save up to Rs 1.60 lakh a year towards fuel prices when compared to diesel boats and has a life of 15 years. Navalt would provide training to 20 SWTD officials on boat operation and maintenance.
Water Metro
Kerala Transport Minister A.K. Saseendran said the State Water Transport Department (SWTD) is planning to convert its diesel ferries to eco- friendly solar powered. "The government has already started efforts towards this. A memorandum has been submitted to the Centre to allot funds for building 50 solar boats. Further, 14 catamarans under construction will have the solar option too. A fund of Rs. 22 crore has already been allotted for this," the minister said.
"The solar ferry boat can break even in three years. The other advantages are that there is no air, water and noise pollution," Thandassery said.
The water transport departments from West Bengal and other states have evinced interest in the solar ferries. "We've even got inquiries from the Kochi Metro Rail Ltd which plans to deploy 78 boats as part of the 'Water Metro' project," he said. A team of KMRL officials also inspected 'Aditya', docked at Bristol Yard in Aroor.