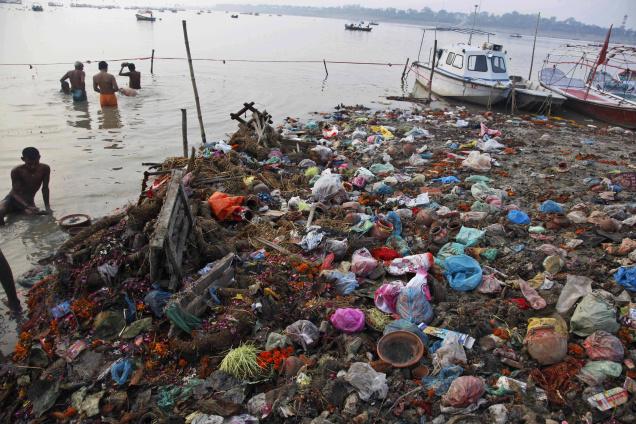 London-based GMEX Technologies Ltd and Ganga River Basin Management and Studies are set to launch to launch a biomass exchange for trading river Ganga's waste. The trading platform will provide a spot market for trading waste. GMEX is a provider of multi-asset exchange trading and post-trade technology.
In a statement, GMEX said it is collaborating with CGanga to launch the biomass exchange. CGanga comes under Namami Gange, or National Mission for Clean Ganga, a flagship project of the Modi government launched with much fanfare in 2015 but has seen little progress.
"Generators of waste, irrespective of quantity, can bring their waste to collection centers and get paid on the spot based on quantity and quality. This will enable a downstream waste-processing industry which relies on consistent and reliable supply of waste," a GMX statement said.
The exchange is expected to start functioning on a pilot basis in select districts mostly in northern states in the first half of 2018," Hirander Misra, chairman and CEO of GMEX Group told reporters.
"In parallel, as these facilities become operational, we would start deployments in other locations over the next 18 months. We are looking at a wider national rollout in the middle of 2019," he added. 
GS Bioenergy, a start-up which creates innovative solutions for waste handling, has developed a waste collection and segregation methodology for the spot exchange.
"The company will act as an enabler for waste processors like biogas generators or refuse-derived fuel (RDF) generators," said the press statement.
"As far as buyers are concerned, we already have interest from local level, state level. We have done similar projects in Africa and think this will succeed," he added. Several commodity investors and traders are looking to back the biomass exchange, the statement added.
"Such an initiative needs a policy push on both the national and international level. In India, the stakeholders are realizing that this project is about monetizing the waste value. We need sellers at local, district and state levels. We are pitching this as a financially viable, economic model, where the waste dealers will get price transparency for their waste collection."