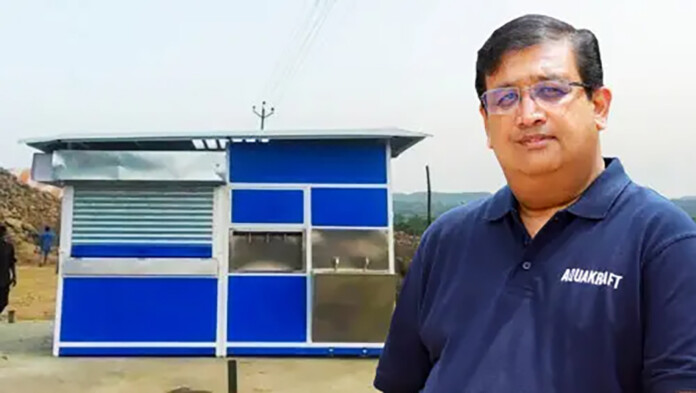 Subramanya Kusnur could be called India's New Waterman for his pioneering work in water sustainability and innovations for offering access to affordable and clean drinking water. The banker-turned-social entrepreneur, Kusnur has a grand plan for making India water positive by 2030.
Rajendra Singh won the Magsaysay Award in 2001 and the Stockholm Water Prize in 2015 for his incredible work in water harvesting and water management. He was declared as the 'Waterman of India'.
Hailing from Dharwad in Karnataka and early education in Mumbai, Kusnur innovated the world's first Digital Water Bank called AqVerium and Automated Toilets that are now a part of the SWACHH BHARAT ABHIYAAN. He coined the acronym SWACHH – Sanitation and Water for Community Health & Hygiene. He is active in the governing council of the UN Global Compact Network India.
Edited excerpts of Kusnur's conversation with Benedict Paramanand, Editor of Sustainability Next
You had a flourishing career, how did you stumble into the water sector?
Sometime in 2002, a close friend of mine Dr. Vulimiri Jagdish, former Senior Public Health Specialist from the World Bank introduced me to Dr. Timothy Badger from Boston, USA. He had patents in Water Filtration technologies. Dr. Badger was very passionate about doing work in India and wanted a partner.
I introduced him to an eminent scientist in India who told me that the technology was a magic wand and provided answers to water contamination problems in India. This encouraged me to support Dr. Badger's efforts. I helped him get some business by introducing him to prospective partners.
Unfortunately, the partnerships did not work out and resulted in a huge financial loss to Dr. Badger. Despite that, he wanted to continue his efforts to solve India's water problems. This inspired me immensely. I left a successful corporate career and started Aquakraft Projects Pvt. Ltd., in July 2010 to focus on providing mass clean drinking water and sanitation.
Alternative to RO Water
Rampant drilling of borewells has depleted the groundwater levels to dramatic proportions. Because of that many parts of India have an endemic problem of fluoride and arsenic contamination in groundwater. 80% of India receives its drinking water from the ground and these contaminations pose a serious health risk.
The striking feature of Acquakraft's technology is that it addresses the contaminants problem in a green way – it does not require power, which is one of the critical components of sustainable water treatment solutions. Unlike Reverse Osmosis, it does not waste water and treats 100% of the water without leaving sludge. Also, it did not require much maintenance. In fact, the local village personnel were able to monitor and maintain the system easily. This buoyed my confidence and conviction and I set out to promote the same.
Armed with a magic wand, I travelled extensively. I was alarmed to find that drinking water interventions have had a very low rate of sustainability. One of the main factors was the lack of electricity, which was the most critical component for the operation of an RO system. Often, the membrane used for filtration in the RO process turns out to be the main source of contamination.
Then I started advocating this technology among opinion and decision-makers. This was very challenging as there was huge resistance to change. I had two options, either embrace the accepted RO technology or continue to promote and support green technology. I chose the latter and that is how I turned a social entrepreneur.
Incompatible Investors
This is when I realized that the rural population, though very smart and intelligent, did not have access to information and best practices and was not ready to embrace change easily. At the same time, there was no one who subscribed to the idea of funding an advocacy program.
With limited resources, I set out to do the same and, during the journey, I met some incompatible investors who pulled down my momentum dramatically and exposed me to unlimited risk of liability. That did not deter me, and I battled against all odds. Everyone, including a few of my partners, was excited when they looked at the massive budget allocations for water by the Government and the Multilateral Aid Agencies. Unfortunately, no one had the grit to see it through as turnaround time was very high and such models were new.
Well-wishers and friends advised me saying that this was not a workable idea and that the only successful companies in drinking water are the home filtration companies which mainly addressed metros and developed markets. I asked what would happen to our hinterland. Someone must do it and at that time my passion took over my inhibitions. I became a social entrepreneur who is profit-oriented yet socially responsible, committed, and sensitive.
Tell me to what extent have your initiatives worked? What has been the impact?
By 2022, Aquakraft saved 1,000,000 litres of water, reached over 4,000 villages, and harvested and treated 500 million litres of water. Our initiatives, "Quench 66" and "Jal Pe Charcha", have provided accessible clean water to children in India's rural regions and promoted community discussions about water-related issues.
Water ATM offers clean drinking water at a unit price of Rs 5 per litre and Aquato – Bio Toilet which gives access to sanitation also charges only Rs 5 per use. Both Aquatm and Aquato are operator-driven. Operators are vocationally trained. We share a part of the proceeds for skill development and livelihood creation.
Our interventions in schools have significantly impacted millions of children. We have installed clean water systems and bio-toilets and promoted rainwater harvesting among schools. The aim is to make every school water-positive so that children not only have access to clean drinking water within the school premises but can also take clean water back to their homes.
In our effort to further support female students, we provide extra sanitary pads, enabling them to share with other female members in their households. This practice promotes a level of sustainability that extends beyond personal use.
Additionally, we have introduced biodegradable sanitary pads in several schools and established sustainability councils. These councils, comprising students from 8th, 9th, and 10th grades, not only monitor the various sustainability activities but also provide ongoing reports on the progress made within the school. We also encourage students to plant water retention plants around the school premises, which contributes towards a sustainable and water-positive environment. Through these structured initiatives, we are subtly promoting sustainability while making a meaningful impact in a very effective manner.
I'm drawn to your tagline 'humanizing sustainability.' It's a powerful statement. Can you shed some light on it?
Our journey over the last 13 years showed us a stark reality – many interventions in drinking water are not viable. We realized that water is not just about having equipment, it's about humans and nature. We found that without community participation, especially from women, no technology can be sustained. The fulcrum of sustainability is, indeed, the human being.
We found that without community participation, especially from women, no technology can be sustained. The fulcrum of sustainability is, indeed, the human being. Thus, humanizing sustainability.
Tell us about your collaboration with IIFA.
The International Indian Film Academy (IIFA) in collaboration with AquaKraft, introduced a special initiative named "Be Water +ve" on 22 April 2023. This initiative aims to drive a movement to make Indian villages water self-sufficient, drawing inspiration from the Hon'ble Prime Minister's goal of achieving Water Security by 2047.
The initiative encompasses a blend of advocacy for water security, hands-on projects concerning potable water, sanitation, and water recycling, combined with community engagement and governance. The Ministry of Jal Shakti, along with various expert partners, provides guidance for this movement. Over the past ten years, innovative solutions have been developed and applied by us, that are eco-friendly, energy-efficient, and water positive in the domain of water and sanitation across India.
Considering the global emphasis on carbon, how can we shift this focus towards water?
Water needs a central focus in global conversations. While India has been proactive with initiatives like Jal Jeevan Mission and Atal Bhujal Yojana, globally, water still lags. However, we're reaching out to corporations, especially those with high water consumption, and guiding them towards water stewardship.
Could you give us a sense of the reach of Aquakraft's projects?
We're working with approximately 450 to 460 communities across nine states, primarily in rural areas. Urban zones, to an extent, have access to resources, but rural areas often lag. Beyond just providing water, we've initiated rainwater and groundwater recharging projects and trained individuals in rainwater harvesting. Our goal is to create both direct and indirect impact.
Your initiatives around the water sustainability score and water balance sheets seem innovative. Could you elaborate on these?
Indeed. These are our ways of making water management measurable and accountable. We conduct thorough water audits for industries and then produce water balance sheets, which can be positive, neutral, or deficit. Positive balance sheets earn 'Aqua Kredits,' akin to carbon credits. This system enables companies with water deficits to offset their shortcomings. Our partnership with advertising agency Leo Burnett has helped us brand this initiative, and guide consumers towards making more eco-friendly choices.
What's the future roadmap for AquaKraft?
We're launching a water franchising entrepreneurship program in January 2024. Our focus remains on India, but our models will go global, starting with Sri Lanka. Our philosophy underlines the significance of water for sustainability. We aim to inculcate respect for water, emphasize its efficient use, and continuously innovate our approaches.
It's a journey. We've seeded the philosophy of water's importance to multiple stakeholders, from governments to corporations. We believe in incubating the thought that water deserves respect and focused policy measures. There's a long way to go, but with continued support, we'll achieve our goals.