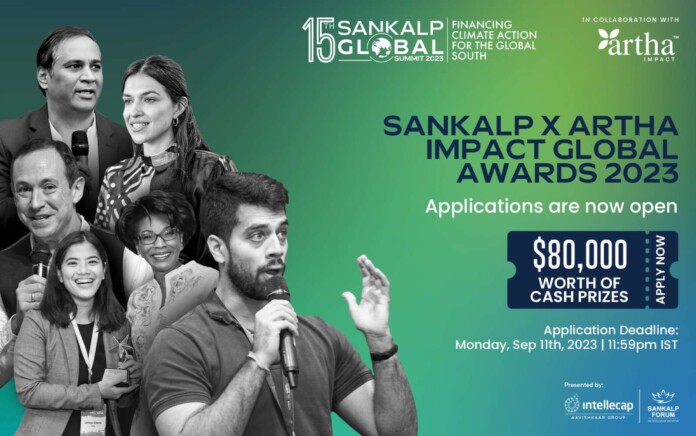 The 15th Sankalp Awards for impact investing and social entrepreneurship has shortlisted 12 firms from 225 applications. The award will be announced next week.
The organizers have created a unique voting platform for choosing the winner. The deadline for voting is on Monday, October 14th, 2023.
AlphaMERS develops Practical and Scalable Technologies in River and Lake Cleanup, Ocean Energy and Oil Spill Response.
Climatenza is a Solar Thermal Company that aims to decarbonize Industrial Energy needs and achieve Energy Security.
Cancrie transforms waste into advanced nanomaterial to increase battery efficiency across multiple technologies.
REVY Environmental Solutions specializes in waste management, focusing on converting waste into reusable resources.
Hasiru Dala Innovation aims to create a waste-free world, with inclusive Circularity serving as their guiding principle.
Saahas Zero Waste provides decentralized, end-to-end traceable waste management services focusing on maximum resource recovery.
Strawcture Eco uses alternate natural feedstock to make carbon negative materials that offset the embodied footprint of buildings.
ReCircle is a cleantech startup driven by the mission to accelerate the world's transition to a circular economy by offering a traceable reverse supply chain for plastic waste.
City Greens (CG) offers a full-stack solution in the domain of Controlled Environment Agriculture (CEA).
myUDAAN, A MAAS for limited mobility, integrates Humans, machine and transportation to offer its users options for complete Mobility driven by purpose and passion.
FarMart is a food and agri tech company addressing post-harvest supply chain inefficiencies through an intelligent food supply network.
Angaza foods engages in the export of fresh fruits and products, with avocados being a prominent product in their portfolio.
Register Here