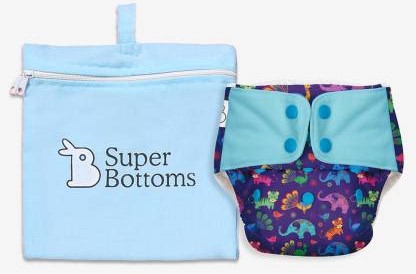 Parents are beginning to realize that the diapers their kids wear can take 500 years to decompose. That's why SuperBottoms' 100% cotton reusable diapers are attracting consumer interest. These diapers can be reused 300 times and are made of soft organic cotton.
SuperBottoms, a start-up, has clocked Rs. 22 crore turnover in 2021. Its volumes are doubling year-on-year. The firm sees massive potential with 25 million births a year in India. While the disposable diapers' market has an estimated size of about one billion USD and growing at about 14% per annum, the penetration of disposable diapers in India still is below 7%.
The firm received funding from leading investors like DSG Consumer Capital, Saama Capital, Titan Capital and Alteria Capital. SuperBottoms also makes other diaper products like Dry Feel Langot, Padded Underwear for Potty Training babies and Baby Laundry Detergent.
Apart from being 100% cotton, the outer lining which gives waterproofing is made of laminated cloth. The absorption of the diaper is done by layers and layers of organic cotton which is known to be highly absorbent. The dry feel is provided by a fleece layer which quickly wicks away moisture. The diaper is also designed in a way that it fits a baby from 3 months to 3 years.
Reusable cloth diapers are revolutionizing the world of diapers. A company press note said its diapers offer all the conveniences offered by a disposable diaper – long hours absorption (even all night), dry feel to baby and waterproofing. Since they are made of cloth they are safe for babies' skin. They are washable and can be reused up to 300 times!
"That essentially means the same diaper lasts the entire diapering phase of the baby and sometimes even outlasts that. Some cloth diapers are made of organic materials like organic cotton which makes them highly sustainable. Cloth diapers work out cheaper too. With disposables a baby needs around 5500 diapers," the note claimed.