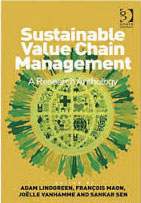 Edited by Adam Lindgreen, François Maon, Joëlle Vanhamme and Sankar Sen Gower Publications
The way organizations manage their value chain has changed dramatically over the past decade. Today, organizations take account of economic issues, but they also adopt a broader perspective of their purpose including social and environmental issues.
Yet despite its global spread, sustainable value chain management remains an uncertain and poorly defined ambition, with few absolutes. The social and environmental issues that organizations should address easily can be interpreted as including virtually everything. Current literature on the topic seeks to understand the effects and management of initiatives dealing with diversity, human rights, safety, philanthropy, community, and environment. However, the penetration of social and environmental considerations into value chain management is described as 'desire lacking reality' thereby making the idea a patchy success.
The objective of this research anthology is to investigate different angles of sustainable value chain management. The book's 27 chapters fill holes and explore new fields; the chapters are organized in five sections: Sustainable value chains – context, drivers, and barriers; Sustainable value chains – managing activities; Sustainable value chains – managing networks and collaboration; Sustainable value chains – integrative perspectives; and Sustainable value chains – specific sectorial and industry perspectives.