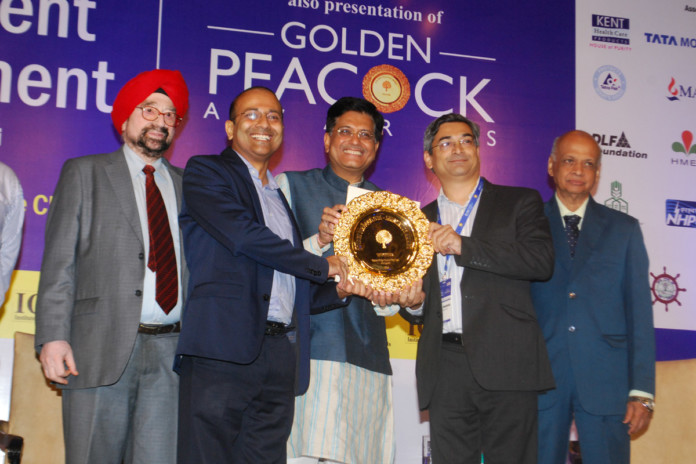 tra Pak, the world's leading packaging and processing solutions provider, was awarded the reputed Golden Peacock Eco-Innovation Award 2016 for its work in establishing a sustainable collection and recycling ecosystem for used Tetra Pak cartons. The Golden Peacock Award, a global benchmark of corporate excellence, underlines Tetra Pak's responsible waste management and recycling practices.
Tetra Pak South Asia Markets Managing Director Kandarp Singh said: "We started to see a growing demand in India for safe and hygienic food packaged in Tetra Pak cartons from the early 2000s. For this reason, we have been working to set up a viable ecosystem to encourage and build awareness around recycling of our fully-recyclable paper-based cartons. We began our journey from scratch nearly 15 years ago, with virtually no carton collections. Since then, we have been collaborating with stakeholders across the value chain – recyclers, waste pickers, NGOs, consumers and government bodies – to improve the collection and recycling of our cartons. Today, thanks to that early start, one in every three Tetra Pak cartons consumed in India is being recycled. Of course, there is more ground to cover but together with our partners, we are all set to keep the momentum going."
This combination of a short-term (interventions to establish collections and recycling) and long-term approach (education) form the basis of an economic model where the buyer (the recycler) pays an attractive price to the seller (the waste collector) and the model feeds itself, save for some interventions from Tetra Pak in terms of communication, promotion and equipment support.
Studies from Central Pulp and Paper Research Institute (CPPRI) establishes the quality of recovered fibre from Tetra Pak cartons being superior to that of Indian old corrugated cartons (OCC) and at par with imported OCC. This makes Tetra Pak cartons a valued resource.
The market for roofing sheets has grown significantly as they benefit consumers immensely. Studies among dairy farmers who use the sheets have revealed that milk productivity goes up 10% during summer months. Earlier, the extreme heat would result in 20% reduction in milk productivity.
Paryavaran Mitra Club
Waste pickers are often perceived as marginalized and lack social affiliation. The club is a strategic initiative to provide a strong sense of bonding and affiliation and also nurture them as promising Tetra Pak collection partners.
Cartons to Classroom
Tetra Pak launched a first-of-its- kind initiative 'Cartons to Classrooms' in Bangalore with the objective to educate consumers about the recyclability of used
Tetra Pak cartons.
The initiative brought the city of Bangalore together that collected more than 100,000 used Tetra Pak cartons, which were recycled into schools desks. Based on the success of this initiative, Tetra Pak launched a pan India initiative in 2013- Your Cartons My Classroom.
'Your Cartons. My Classroom' brought together Delhiites to collect over 200,000 used Tetra Pak cartons for recycling. The collected cartons were recycled into school stationery and furniture for six schools that were in need of a better learning environment. It created awareness about the need to segregate used Tetra Pak cartons, which can help improve the education environment for students.
Benefits and Impact
A company case study estimates that more than 30% of used Tetra Pak cartons are being recycled. What is unique about Tetra Pak carton collection model is that it addresses not just an environmental concern but also a social one.
It has been able to involve more than 16,000 waste collectors who go about collecting cartons collection every day and thereby, generate extra income. The Paryavaran Mitra clubs and health camps are a step forward towards increasing social affiliation for waste collectors. Recycling operations generate additional livelihoods.
Carton recycling not just saves natural resources from being wasted but also prevents landfill. Recycling helps reduce carbon footprint as the extraction of new raw materials (to produce plastic and aluminium) is more energy intensive than reusing the materials, the case notes.