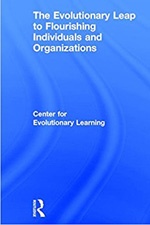 The last thing the world needs is yet another book delineating business-induced dangers and damages such as environmental disasters, social inequalities and
unethical conduct.
And yet, success in achieving sustainable growth – whether for the individual, organization, or the social community – has mostly eluded us. Just as a compass needle moves to magnetic north, our deeply seated behaviors push us back to practices that are familiar and comfortable, even when we have sought to make a change to act in ways that are more sustainable.
How can we generate this deep and durable change in our values and beliefs, and thus both in our individual and collective decisions and behavior at work? How can we unveil the best of our human qualities by learning to raise our consciousness to a more profound perception of ourselves and our relationship with the whole? And what if such a change could lead to an 'evolutionary leap' to a lasting flourishing state for us and for our organizations?
This book describes how this shift in mindset and consciousness level can, and has indeed, taken place in organizations using meditative practice, not only for individual wellbeing (which is now well understood) but also for deep transformational change. Through this shift, we can move past a definition of sustainability as 'mere resource efficiency and long-term survival', to one of 'sustainability-as-flourishing'.
This book challenges many pre-conceived ideas about what a sustainably successful organization is and how it should be run. Based on a growing body of evidence – from neuroscience to business research – it maps out a path to empower all who wish to undertake this journey towards the realization of the highest potential in ourselves, our organizations, and our social and natural world.