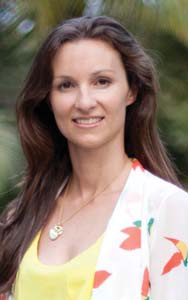 South African expat Michelle Bauer's Good Juicery brand in India is becoming a hit. Find out what she is doing right and her future plan
By Uma Haridas
The Good Juicery is the brainchild of South African expat Michelle Bauer who recognized the need for premium healthy drinks in her pursuit of the good life. The drink was an alternative to the fruit drinks currently available in the Indian market with "surprisingly low juice content and are packed with ingredients that you don't need, don't want or can't pronounce."
Good Juicery sparkling fruit drinks have been developed with lot of thought and care. They are currently available in three flavors – guava, apple and passion fruit.
Good Juicery is committed to doing their bit in preserving the environment. Right through from production to consumption, every effort has been made to limit the impact on the planet. They plant 1 tree for every 1000 cans of sparkling fruit drinks sold. Also, they promote recycling by working with local groups, such as Rebirth to ensure as many cans as possible are recycled and using recycled paper in business cards, posters and stationery.
In order to reduce carbon footprint, harvesting of rainwater and treatment of waste water are standard practices for their manufacturer. As the drinks don't need refrigeration for storage their carbon footprint is reduced further. Their sparkling fruit drinks are made in India and, as most of the ingredients are sourced locally.
What motivated you to launch this business?
Moving to India in the summer of 2011, we were struck by the lack of packaged beverage options available in both restaurants and retailers. Specifically we were looking for natural, non-alcoholic, fruit-based options – like the wide variety we were used to abroad. I certainly never set out to be an entrepreneur; however after identifying there was an opportunity in the market, we had to take it. It's been an exciting journey with extreme highs and some lows – however we have not looked back.
What were the challenges faced in the journey from conception to execution?
Luckily the reception to our sparkling juices – from taste to branding, has been fantastic. We are lucky to have wide appeal – so are stocked in some great 5 star hotels, restaurants and high-end retailers across the country. However, I would say that therein lies our biggest challenge – which is to get our distribution in the different markets to operate smoothly, while being based in Pune.
What is your business model?
We use a contract manufacturer who makes our sparkling juices in small batches to our recipe and specifications. We also employ distributors in the different markets who make our deliveries and collect the payments. We maintain the sales, marketing, research and development, production management etc in-house.
What is your relationship with the supply chain, example farmers?
Maintaining fair practices is very important with all our vendors or suppliers – this is a basic tenet of our company.
How is the demand for the product?
We have had a wonderful reception to our sparkling juices – in addition to the metros, we now supply Nasik, Dehradun and Kerala too. We have seen year-on-year growth, as we go deeper in existing markets and open new ones.
What are your future plans for the brand?
In the next few months we will be launching our fourth flavor. We also have plans for a new and exciting range of juices, which have been developed as a direct result of demand from the market.