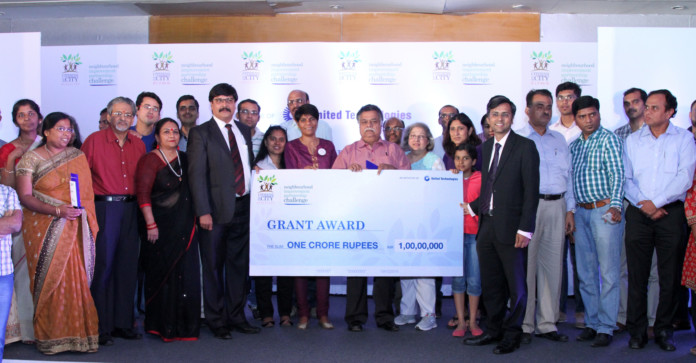 India's first-ever Neighborhood Improvement Partnership (NIP) Challenge sees a grant of nearly Rs 1 crore to winning projects
United Technologies Corporation announced 12 winners of India's first ever Neighborhood Improvement Partnership Challenge (NIP), an initiative of UTC's Citizens for the City Program. The winning projects and support teams will collectively receive a total amount of nearly Rs.1 crore. The 12 winners will implement projects in the areas of mobility, waste management, public safety, autonomous building, water quality and rejuvenation of public spaces.
"Communities in Bengaluru have shown that they are willing to come forward and be solution finders rather than mere critics of the challenges they are confronted with," said Ashok Mirchandani, Managing Director, Carrier Transicold, Asia Pacific, United Technologies. "We hope that through our Citizens for the City campaign, we have sparked a movement that will see more neighborhoods to come forward and find solutions to some of the most pressing urban challenges."
Launched in May 2015, Citizens for the City's Neighborhood Improvement Partnership Challenge garnered
145 registrations and 86 proposals from across Bengaluru. Of these, the 12 winners underwent a comprehensive review, and the projects that required building and zoning permissions were forwarded to the Bruhat Bengaluru Mahanagara Palike (BBMP) for approval. The winning projects will be completed within a span of six months.
A dedicated team from Centre for Public Problem Solving (CPPS) and WRI-India in conjunction with United Way of Bengaluru (UWBe), Bangalore Politcal Action Committee (BPAC) and The PRactice spearheaded by the Neighborhood Improvement Challenge, has been mentoring communities, establishing a support network for the participants and creating a robust framework for execution of the winning projects in the city.
"Neighborhood Improvement Partnership is an idea whose time has come, as has been proven by the response to the Challenge," said Kalpana Kar, Founding Partner, CPPS. "The projects we have received break down complex urban problems to the neighbourhood level, with solutions that can be executed easily and replicated across the city. The biggest achievement for the NIP Challenge is that we have a framework today that involves citizens in urban problem solving along with parastatals responsible for the City's functioning."
"The overwhelming response to Neighborhood Improvement Partnership Challenge demonstrates greater awareness of urban problems at the neighborhood level," said Chris Rao, Vice President and Country Head, UTC Aerospace Systems, India. "We hope the twelve winning projects will become exemplary models for other communities to replicate, easing neighborhood challenges to a great extent."
Winners
Transforming an Environmental Hotspot: The Defence Colony Link Road
Organization: DECORA
Area Name:     Defence colony, Indiranagar
The project proposes to re-design an existing garbage transfer point (primary collection transfers to secondary) in the neighbourhood, to a clean and efficient garbage transfer station. The station spanning 1500 sqft is expected to handle 500 kg daily waste from 1000 Households. The site design will include a leachate filtration system and follow the MSR rules of no garbage on ground.
Angavikalaru Anandam (Disabled Delight)
Organization: The Karnataka Welfare Association for the Blind
Area name:     Nehru Nagar, Sheshadripuram
The project looks at re-designing a dilapidated neighborhood park to be disabled friendly in order to make it an accessible, usable and a safe recreation space for 150 blind children and 250-300 visually impaired and orthopedically disabled visiting the Centre. This is also intended to benefit other residents of Risaldar Street and V.V. Girl slum (50,000 population).
Creating Safe Neighborhoods- Empowering Communities
Organization: Enfold Proactive Health Trust
Area Name:     Madiwala
The project looks to conduct training sessions for personal safety of children for teachers, nurses and policemen in Madiwala. For the selected ward, the training sessions are proposed in a total of 3 schools, 2 anganwadis, 2 hospitals/ nursing homes/clinics/ health centres and 1 police station over 3 months.
Multiple cycle parking facilities in HSR layout
Organization: Soma Sundarapalya Neighbourhood Improvement Trust
Area Name:   Soma Sundarapalya
The project looks to provide 23 cycle stands, as infrastructural support for cyclists in the neighborhood as means to aid last mile connectivity and short trips within the neighborhood. The stands are proposed at thirteen locations near markets and bus stops making up a circuit of approximately fifteen kilometres.
Inclusive Integrated Energy Centre
Organization: Selco Foundation
Area Name:     Pottery Road
The project looks to pilot a manned kiosk at a bus stop – as a charging station, powered by solar energy to provide 24/7 'on demand', easy to access, pay-per-use lighting and mobile charging services. The targeted users for this service are slums, street vendors and low income houses.
Using Zero Electricity STPs to Cleanse Polluted Kaluve
Organization: FoRCE Brookefields
Area Name:     Brookfield, Kundalahalli
The project proposes to construct an underground zero electricity anaerobic STP with a processing capacity of 100KLD to treat sewage flowing in the neighborhood kaluve. Once treated, the water is to be released into rainwater harvesting percolation pits (to be built in residual area of the site), while the excess water is to be let out continuing downstream into a lake.
Laning at Major U-Turns
Organization: Ashima Open Homes Owners Welfare Association
Area Name:   Ginger Hotel U-Turn, EPIP, Whitefield.
The project aims to redesign a road junction to reduce unnecessary traffic congestion and increase road safety with behavioral change through lane discipline. The proposal is to organize the existing U-turning based on scientific road standards accompanied with complementary road signage.
Navigation Maps & Sign Boards
Organization: Welfare League Indiranagar
Area Name:   Indiranagar 2nd stage, 10th main
The project aims at providing well-designed street signage in the neighborhood, for way finding and navigation. In addition to street names and orientation maps, it will also provide information with regard to civic services in the area such as spots for garbage collection, parking zones and surrounding amenities.
NIVASA Suitcase Proposal
Organization: Nivasa
Area Name: PattandurAgrahara
The proposal looks at addressing temporary housing solutions for migrant construction workers, offering portable housing that provide humane living conditions. The project proposes to pilot a cluster of six housing types, as easy to build structures adaptable and expandable to individual needs.
Wet Waste Composting and Permaculture
Organization: Rise HAL 3rd Stage RWA
Area Name:   HAL 3rd Stage, New Thippasandra
The project aims at setting up a waste segregation model for the neighborhood of 250 homes (1000ppl). This is to include a '2 bin 1 bag' system for enabling segregation at source and a wet waste management comprising of in-situ composting and permaculture in the neighborhood park.
Comprehensive Transport Plan
Organization: Team Sanjaynagar & Jwalamukhi
Area name:   Sanjaynagar
The project looks to provide 40 cycle stands, road safety signage and traffic calming interventions in the ward of Sanjaynagar to provide safe environments for cycling and walking and increase the number of people doing so in the ward. In addition, it will also focus on behaviour change through awareness and outreach programs in the schools, homes and cycle day events as well as introduce traffic safety wardens.
Street Lighting with Sensor Based LED Lighting
Organization: Sri Sri Paradise & New Tippasandra Residents
Area Name:   3rd Main, New Tippasandra
The project looks to introduce as a pilot, 20 sensor based LED lights in neighbourhood street streets, replacing high energy guzzling HPSV lamps. Since the HPSV lamps are often left on through the day, the intervention will also prevent the resulting loss of electricity from the same. This intervention is expected to result in savings of close to Rs. 99,000 per year for BBMP.