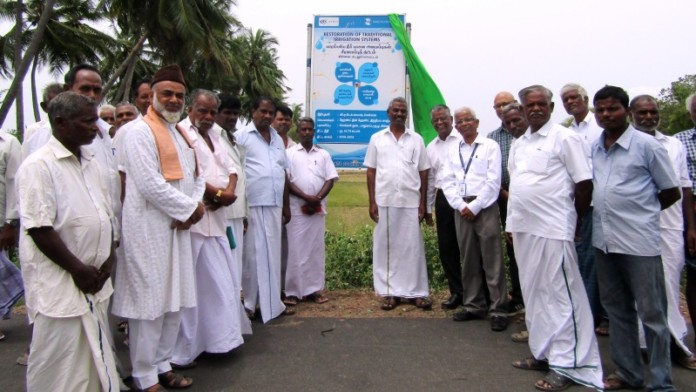 Despite massive progress in water management systems, there's still huge merit in India's traditional irrigation methods. WAGAG, a global leader, has completed over 900 water and wastewater plants worldwide. It has made a sustained contribution to an improvement in the quality of life of well over a hundred million people.
WABAG's latest project in India is at Sokkan Odai, Killai, Chidambaram Taluk, Cuddalore District. It aims to restore traditional irrigation through structural renovation in Sokkan Odai, part of Cauvery river drainage system. This is aimed at facilitating sustainable crop production in both flood and drought situations. Activities include channel de-silting, pipe outlets on channel banks, creation of farm ponds for water storage and biomass production on the channel banks.
The project is executed by Hand in Hand India, a social development organization. A Sokkan Odai Conservation Committee has been formed consisting of beneficiary farmers to take ownership of the community assets post project completion. This WABAG CSR project would benefit around 250 farmers and 350 ha. of farm land. This project was conceived by the Agricultural Engineering Department of the Cuddalore Collectorate and implemented by WABAG with the support of Government, NGO and the Killai farmers, a true collaborative effort.
The key is to find a model that will help replicate this model is thousands of villages in India.
The good news is WABAG would be present at Cuddalore District for three more years connected with watershed development project in co-financing partnership with NABARD.