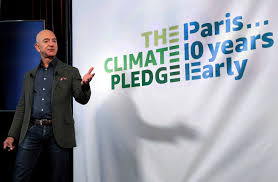 In June 2020, Amazon announced The Climate Pledge Fund to support the development of sustainable and decarbonizing technologies and services that will enable Amazon and other companies to meet the goals set by The Climate Pledge.
This dedicated investment program—with an initial $2 billion in funding—will invest in visionary companies whose products and solutions will facilitate the transition to a low-carbon economy. In order to meaningfully reduce the amount of net greenhouse gas emissions, low-carbon solutions need to be developed in all sectors of the global economy.
The Climate Pledge Fund will invest in companies in multiple industries, with an initial focus on: transportation and logistics; energy generation, storage, and utilization; manufacturing and materials; circular economy; and food and agriculture.
Companies of all sizes and stages will be considered, from pre-product startups to well-established enterprises looking to scale. The scope of The Climate Pledge Fund is global and will consider investments in companies developing products or services that reduce carbon emissions and help preserve the natural world.
To apply – https://sustainability.aboutamazon.com/about/climate-pledge-fund
Amazon also announced in June 2020 that the sports arena it purchased in Seattle will be named as 'Climate Pledge Arena' and not Amazon arena; a small gesture "as a regular reminder of urgent need for climate action."
Jeff Bezos said the area would be the first 'net zero carbon certified area' in the world. It will use reclaimed rainwater for its ice system.
Amazon's 2020 Sustainability Report
https://sustainability.aboutamazon.com/pdfBuilderDownload?name=sustainability-all-in-june-2020
Highlights
Reached 42% renewable energy across its business in 2019, with a total of 91 solar and wind projects that have the capacity to generate over 2,900MW.
Reduced the weight of outbound packaging by 33% and eliminated more than 880,000 tons of packaging material since 2015.
Ordered 100,000 electric delivery vehicles from U.S. electric vehicle manufacturer Rivian in 2019, marking the largest order ever of electric delivery vehicles.
Achieved LEED certification for nearly 30 buildings in the U.S. and BREEAM certification for more than 20 buildings across Europe (as of 2019).
Launched a fully recyclable paper padded mailer that protects products during shipping while taking up less space in transit in 2019.
India's packaging-free shipping program has expanded to 100+ cities across the country.
Featured Image Credit The Economic Times