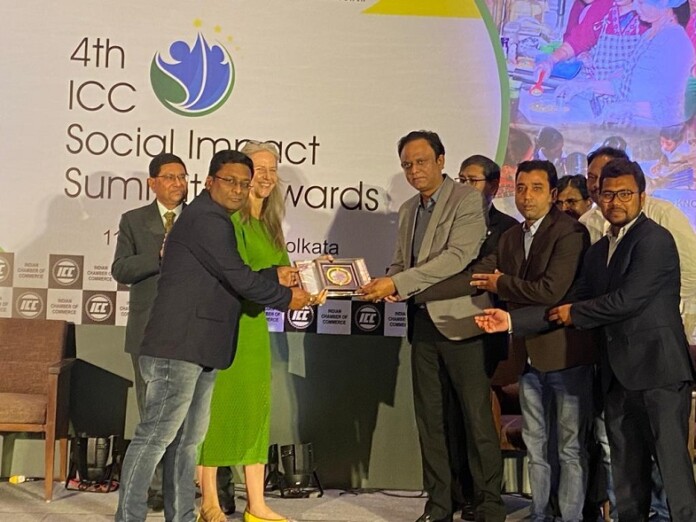 Ambuja Cement Foundation, the CSR arm of Ambuja Cements, won three awards at the 4th Social Impact Awards 2022 held by the Indian Chamber of Commerce (ICC) in Kolkata in April 2022.
Ambuja Cement Foundation, Sankrail won an award in 'Gender Equality and Women Empowerment' in the large industry category while Ambuja Cement Foundation Farakka won an award for its work in 'Water Resource Management and Livelihoods' and a 'Jury Award' in the Health Category.
A press note stated that from around 60 applications from various companies and NGOs, Ambuja Cement Foundation stood out in water, women empowerment and health. For the fourth consecutive time in a row, Ambuja Cement Foundation Farakka and Sankrail have been winning the ICC Social Impact Awards for their work in community development initiatives of the rural community.
ACF has been working in Sankrail, an industrial block in West Bengal with nearly 130 heavy industries, on gender sensitization and specifically on women empowerment in 16 villages around the Ambuja Cement plant areas. Under the women empowerment program, focus is on forming self-help groups, promote credit planning and integrate the program with other thrust areas of agriculture, water resource management, and health and skill development. The organization encourages local women to participate in local development issues and be a part of community or panchayat meetings, leading to 40% of women being part of village level institutions and committees.
Farakka is another block of West Bengal which is based close to the Bangladesh border and considered one of the very under-developed block of the state. Health indicators were very poor in the villages but with Ambuja Cement Foundation focused on interventions and community involvement, behavior change in family planning, maternal & child health and anemia prevention has been quite visible in these areas. The team has also been working on improving livelihood of small land holders through water harvesting and lift irrigation systems which is helping them grow more crops, get better yield and earn more.
The ICC Social Impact Awards is an initiative of the Indian Chamber of Commerce (ICC) to recognize exemplary work done in the field of social investment, CSR and sustainability on a pan India basis.
Ambuja Cements Ltd., a part of the Holcim Group, is among India's leading cement companies. It has a cement capacity of 31 million tonnes with six integrated cement manufacturing plants and eight cement grinding units across the country.
a
Support Green Journalism
Dear Readers,
Since March 2013, SustainabilityNext (SN) has been educating and exciting thousands of entrepreneurs, executives and graduate students about the power of Sustainability in influencing our future. It's purpose is to inspire and provoke Indians to move swiftly from awareness to belief to ACTION.

As of December 2021, SN is India's most read digital magazine on the business of sustainability. It has been covering Green Business, Green Products, Social Entrepreneurship, Green Literature, Green Technology, among others. A youth section was added in 2021.

SN launched India's first Green Literature Festival (www.greenlitfest.com) in June 2021 to offer a robust platform for readers and writers to hold meaningful conversations.

For SN to grow and stay relevant it needs to transition from a grant and self-funded model to a community-funded and/or institution/corporate-funded model.
Looking forward to your timely and generous support.
Why Support SN – https://sustainabilitynext.in/support/
All supporters get two-year subscription to SN. You can Gift Subscription to your colleagues/friends/family.

For sponsorships and advertising please contact

Benedict Paramanand
Publisher & Editor
benedict99@gmail.com
a