Ashoka, world's largest network of social enterprises, has chosen two young social entrepreneurs as India's first Lead Change makers (LCMs): Kuldeep Dantewadia – founder of Reap Benefit, and Arundhuti Gupta – founder of Mentor Together.  Ashoka, in association SAP, is investing in their enterprises and co-creating a three-month engagement with the LCMs.
These two social entrepreneurs and the teams they lead have recently started collaborating with Ashoka on the implementation of a pilot project that engages corporate employees, youth, and Ashoka Fellows in Bangalore. The project aims to increase the bandwidth of the LCM-led organizations in respect to youth change-making and social entrepreneurship.  This is being done with SAP employees and Ashoka Fellows serving as mentors and advisors to groups of youth.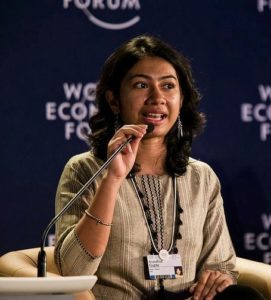 Mentor Together
Founded by Lead Changemaker Arundhuti Gupta, Mentor Together is a group of young change makers that enables people in the corporate sector to act as mentors with youth from low-income communities. The engagement with SAP is unique to their model as it will be the first time that they are using the mentor relationships to produce social innovations in the communities of the mentees. We are hoping to see 15-20 highly engaged SAP employees working with individual youth mentees.  The teams will collaborate with Ashoka Fellows to create solutions for social problems identified by the youth.
Reap Benefit
Founded by Kuldeep Dantewadia, Reap Benefit works with youth on college and corporate campuses to help them start green initiatives, ultimately reducing the environmental impact of the campus. The engagement with SAP will see a transposition of SAPs successful environmental practices to college campuses. The aim is to give youth the knowledge and inspiration they need to create social and environmental change.   This project aims to see 15 young leaders from campuses across Bangalore learn and implement the environmental practices of SAP.
Ashoka is the one of the largest networks of social entrepreneurs worldwide, with over 3,000 Ashoka Fellows in 70 countries creating large-scale impact through new innovations. Founded by Bill Drayton in 1980, Ashoka is an international network that is driving the social sector and offering a platform for people dedicated to changing the world. Ashoka pioneered the field of social entrepreneurship and has built multi-level stakeholders across the world who increasingly look to entrepreneurial talent and new ideas to solve social problems.
In India, Ashoka has a vibrant fellowship of over 350 Fellows and elects a new cohort of Fellows every year. Going forward Ashoka India will also select and elect new Fellows from Nepal, Bangladesh and Sri Lanka and play a unique role in integrating the emerging social sector in South Asia.