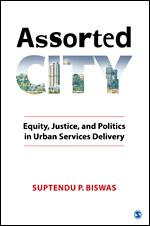 A rare piece of research on the game of urban services delivery in an Indian metropolis.

Assorted City makes an important contribution to urban planning discourses in India by offering an in-depth conceptual and theoretical insight to address theory–practice dichotomy. A unique work on urban services delivery in an Indian city, it narrates how equity and justice are manipulated in the process. It captures generic urban processes in three ways: the questions it raises about planning, the multifaceted methodological perspective it introduces, and the commitment it underlines toward social justice and equity in a democracy.
This book explores and exposes the interplay between urban existence and the politics of service delivery.