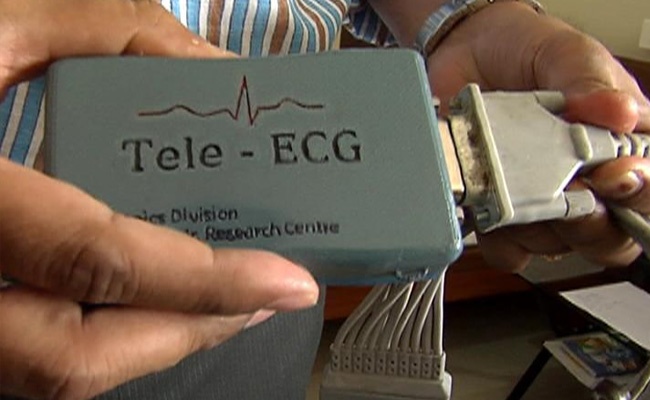 It's just slightly bigger than a debit or credit card but works like a full-fledged ECG machine. A team of Bhabha Atomic Research Centre (BARC) announced their compact ECG machine recently. Soon, people could have an ECG machine at their homes just like they now have a personal blood sugar and/or blood pressure monitor. An app will connect the device to a smartphone and the user will not have to undergo special training to operate it.
Called Tele-ECG, work on its commercially producing is underway. Commercial machines currently available in the market cost between Rs 40,000 and Rs 50,000. The Tele-ECG will have a battery inside it and will be chargeable with a mobile phone charger. Also, the accompanying app will ensure real-time sharing of a patient's ECG report with doctors. The time saved will be of critical importance in saving lives.
A researcher from the BARC team said Tele-ECG machine will be able to churn out around 300 ECG reports on a single charge. In rural areas where, where almost 70% of Indians live and where critical cardio care facilities are rare or absent, this machine could be a life saver.
The concept of a 12 channel Tele-ECG is not new. With the advent of GSM network and 3G and 4G network has now got a big boost. The ECG image can be shared over any file sharing app, including WhatsApp. For a printed output link any printer for an A4 sized printout will do.