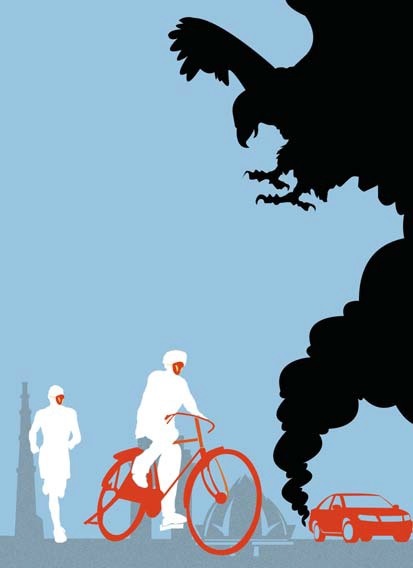 Sunita Narain and Anumita Roychowdhury of Centre for Science & Environment have produced a comprehensive action plan to significantly reduce air pollution in Delhi. In a recent report posted on the website http://www.cseindia.org/, they have come up with a 15-point action plan
Many are of the suggest plans are already underway but need faster implementation and with better governance standards. With both the Supreme Court and the National Green Tribunal on watch and with AAP government making sincere efforts, chances of the crisis being managed better appears good. Excerpts of the report:
There is enough evidence in Delhi now that shows how emergency hospital admissions increase phenomenally during winter when pollution levels peak and several smog episodes occur.
This study, for the first time, put the spotlight on the problem of secondary particulates that are formed in the air from gases that come from combustion sources. This means the relative contribution of traffic, industry, power plants and open burning to particulate load becomes even bigger and needs stronger control.
Guiding principles for clean-up
Even though Delhi, like several other cities, is monitoring air quality there is no clear framework to meet the national ambient air quality standards. Sustained air quality gains can be made with sustained action. Delhi and other cities need a comprehensive source-wise action plan-mix of short, medium, long and emergency measures–to meet clean air targets in a time-bound manner. These need some key guiding principles:
So far, action in Delhi has been driven by the urgency for immediate relief. The time has now come to move towards a full- blown action plan and compliance process.
Take a regional approach – Over time, science has made it clear that local pollution cannot be solved without addressing the larger regional pollution. Satellite imagery shows how the entire north Indian belt stays smogged up during winter.
Address quantum vs. toxicity – Yet another principle that has been established is the setting of priorities according to what is more toxic and dangerous.
Address quantum vs. toxicity – Yet another principle that has been established is the setting of priorities according to what is more toxic and dangerous. Studies are assessing differentiated health risks according to the source of particulates.
Agenda 1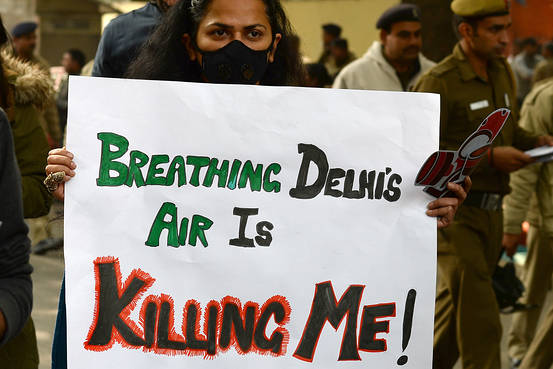 Make emissions standards uniform across the country
Leapfrog emissions standards for new vehicles
(Skip Bharat V to move to Bharat VI by 2020)
Control dieselization of the car segment
Equalize the fuel tax for diesel and petrol car users
Control truck emissions
Expedite completion of the peripheral expressways
Control overloading of trucks
Stop registration of diesel taxis under the
All India Tourist Permit
Introduce a favorable taxation policy for clean fuels
Agenda 2 – Improve and scale up public transport
The Delhi Master Plan has set the target of achieving 80:20 modal share for public transport by 2020.
Improve bus transport •  Need multi-modal integration  •  Improve public transport connectivity in NCR
Action Agenda 3 – Right to safe walking and cycling on all roads
Action Agenda 4 – Restrain the growth in car numbers
Action Agenda 5 – Tax cars annually and higher than buses
Action Agenda 6 – Institute an urban transport fund
Action Agenda 7 – Stop pollution from power plants – Close down the Badarpur Thermal Power Plant
Action Agenda 8 – Control pollution from industry
Action Agenda 9 – Put a stop to garbage combustion
Action Agenda 10 – Prevent pollution from construction activities
Action Agenda 11 – Control crop fires
Action Agenda 12 – Control pollution from biomass-based cook stoves
Action Agenda 13 – Curtail road dust
Action Agenda14 – Ban the use of diesel generator sets
Action Agenda 15 – Curb the brick kiln menace
With 13 of the 20 most polluted cities across the world in India the task is cut out for all stakeholders. India needs its civil society to get engaged better if these plans are to work. The report misses out on efforts that can be made to minimize pollution from bursting crackers during Diwali.
Meanwhile, Greenpeace referred to an IIT Kanpur study that wanted 13 thermal power plants within a
300 km radius of Delhi to be regulated.
Also, the Supreme Court recently accorded its nod to the Centre's graded response action plan to tackle different levels of pollution and asked the Central Pollution Control Board (CPCB) to upgrade its existing infrastructure and set up additional monitoring stations in Delhi-NCR within six months.