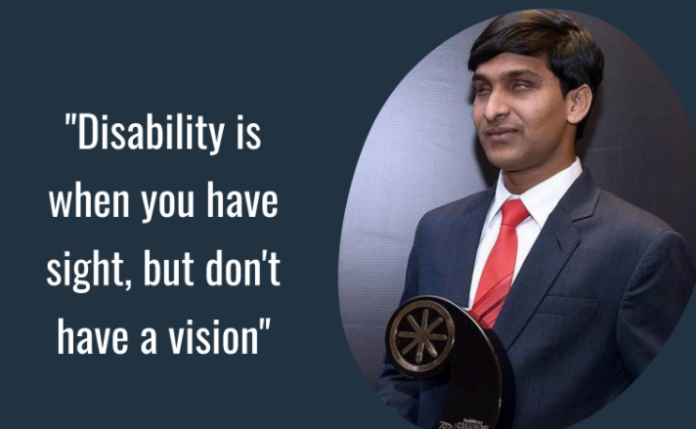 Srikanth Bolla has blind faith in entrepreneurs' ability to solve India's problems but is miffed at how it is still so hard to get past governments and banks for them to operate to their capacity.
Srikanth Bolla was listed as World Economic Forum's Young Global Leaders 2021. For an MIT grad, who has been blind all his life, this is a remarkable achievement. He hasn't let this recognition go to his head. He is back to his factory recycling a variety of waste every day.
Covid set Bollant Industries back by 10 months. Yet, Srikanth did not sulk but looked at new opportunities covid threw up. The firm entered the business of recycling pharma waste that piled up during covid pandemic between 2020 to 2022. He also got into recycling waste from stone cutting. He combined pharma waste and stone waste to make plaster of paris.
Bollant Industries, started in 2012, in Hyderabad, had a pre-covid revenue of Rs. 130 crores. "We are crawling back from covid and will get back our mojo," he said at a panel on Inspiring Leaders at the 10th Indiaspora conclave at Gurugram this August.
He reminisced about his decision to come back to India after securing a degree at the world-famous institute. "It is our generation that has to solve India's big problems like unemployment, open defecation and many more. We cannot run away from what is staring at us. I'm someone who believes that change should start with me."
Unlike earlier, he said, India today is a land of opportunities. "Everyone laughed when I said I will start a business to recycle paper and organic waste in 2012. I told everyone I wanted to provide clean air and good environment for the younger generation."
More than 30 percent of Bollant Industries' employees are disabled yet the company runs like a commercial enterprise. Bollant started with converting municipal paper waste into clean craft paper products. It got into converting agricultural waste like betel nut leaves from north Karnataka and export non-chemical tableware and decorative products to US and European markets.
Srikanth, 30, told BBC news in 2021 that he hopes to come out with a Global IPO and list shares of Bollant simultaneously in multiple stock exchanges.
BBC also announced, in the story that a biopic of Srikanth Bolla was being made starring well known actor Rajkummar Rao and filming would begin in July 2021. It will certainty inspire both the blind and those who are blind to opportunities around them.
SustainabilityNext crossed its 100th Edition in October 2022. Since April 2013, every month, SN has been publishing action-oriented green entrepreneurial stories, sharp interviews with change leaders and incisive book reviews. We wish to make it a fortnightly shortly.

SN Youth, launched in June 2021, is turning into a platform for the youth to share their green journey and inspire others.

SN launched India's first Green Literature Festival in July 2021 to celebrate and grow environmental writing and reading among the youth, executives and entrepreneurs.

You will agree that only awareness is not enough. The world today needs action NOW to save itself. Support our efforts to drive climate action by reaching a million readers by December 2023.