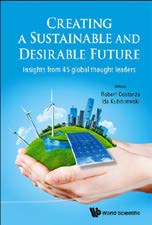 By Robert Costanza, Ida Kubiszewski
World Scientific Publishing Company, 2014
Visionaries and theorists have often been characterized as mere impractical dreamers. It must, however, be recognized that action and change without an appropriate vision of the goal, and analyses of the best methods to achieve it, can be counterproductive. In this sense, a compelling and appropriate vision can be the most practical application. Envisioning must be seen as an ongoing process in which community members collectively identify shared values, describe the future they seek, and develop a plan to achieve common goals. The challenge for the current generation of humans is to develop a shared vision that is both desirable to the vast majority of humanity and ecologically sustainable. This book is an attempt to contribute to a broad discussion on what a positive vision of the future is, should be, or can be.
Written by some of the world's leading thinkers, the book is divided into four sections covering: the process of envisioning; "future histories," which describe the envisioned world from the future, looking back; detailed descriptions of certain elements of the vision; and ideas about how to get from 'here to there'. This book will be of interest to anyone interested in knowing what a sustainable and desirable future might look like from a broad range of perspectives.