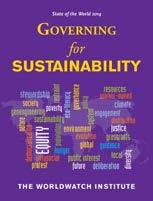 by The Worldwatch Institute
David W. Orr
Citizens expect their governments to lead on sustainability. But from largely disappointing international conferences like Rio II to the U.S.'s failure to pass meaningful climate legislation, governments' progress has been lackluster. That's not to say leadership is absent; it just often comes from the bottom up rather than the top down. Action—on climate, species loss, inequity, and other sustainability crises—is being driven by local, people's, women's, and grassroots movements around the world, often in opposition to the agendas pursued by governments and big corporations.
These diverse efforts are the subject of the latest volume in the Worldwatch Institute's highly regarded State of the World series. The 2014 edition, marking the Institute's 40th anniversary, examines both barriers to responsible political and economic governance as well as gridlock-shattering new ideas. The authors analyze a variety of trends and proposals, including regional and local climate initiatives, the rise of benefit corporations and workerowned firms, the need for energy democracy, the Internet's impact on sustainability, and the importance of eco-literacy. A consistent thread throughout the book is that informed and engaged citizens are key to better governance.