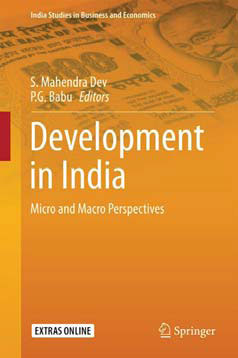 This book examines various facets of the development process such as aid, poverty, caste networks, corruption, and judicial activism. It explores the efficiency of and distributional issues related to agriculture, and the roles of macro models and financial markets, with a special emphasis on bubbles, liquidity traps and experimental markets.
The importance of fi nite changes in trade and development, as well as that of information technology and issues related to energy and ecosystems, including sustainability and vulnerability, are analyzed.
The book presents papers that were commissioned for the Silver Jubilee celebrations at the Indira Gandhi Institute of Development Research (IGIDR). The individual contributions address related development problems, ensuring a homogeneous reading experience and providing a thorough synthesis and understanding of the authors' research areas. The reader will be introduced to various aspects of development thought by leading and contemporary researchers. As such, the book represents an important addition to the literature on economic thought by leading scholars, and will be of great value to graduate students and researchers in the fields of development studies, political economy and economics in general.