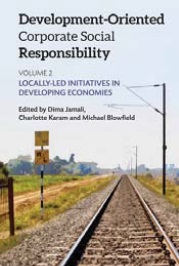 Globalization and the professionalization of Corporate Social Responsibility (CSR) have led to a surge of CSR activities claiming to support development across the globe. In this two volume series, the editors explore this claim through nuanced debate about the potentialities, limitations and threats of development-oriented CSR in the developing world at both the global and local levels.
Volume 2 provides a platform for localized perspectives on CSR in developing countries across the globe. The editors bring local context and business to the forefront and highlight the efforts spearheaded by indigenous actors from within the developing world. The chapters present insights from developing countries through successful and less successful examples of locally-led CSR efforts. Together, these perspectives capture the complex paradoxes of CSR in developing countries and highlight common features in national institutions across the developing world, such as weak political and regulatory institutions, that shape local CSR initiatives and often limit its developmental impact.
The editors argue the need to embrace partnership models that leverage the strengths of different actors to promote effective development and tackle the complex challenges facing the developing world. This important series will be the reference source for academics, practitioners, policy-makers and NGOs involved in development-oriented CSR.