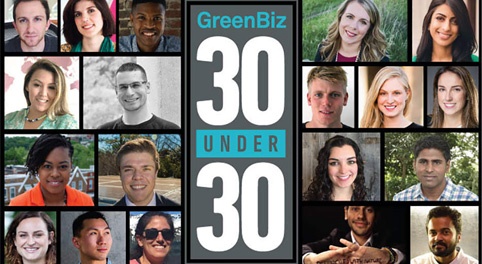 1st Row (L-R) Aaron Tartakovsky, Camille Fabre, Jarami Bond, Catherine Queen, Komal Ahmad
2nd Row (L-R) Nikki Fraser, David Harary, Niels Fibaek-Jensen, Julia Pyper, Paula Tomasini Ramos
3rd Row (L-R) Sarah Robinson, John R. Seydel III, Allie Janoch, Kavickumar Muruganathan
4th Row (L-R) Lauren Kastner, Samson Szeto, Lizzie Horvitz, Tariq Al-Olaimy, Dhawal Mane
GreenBiz, a leading source for global sustainable business news, has picked Dhawal Mane for the '2017 GreenBiz Under 30' award. The award is for shaping the next generation of sustainable business. Dhawal works in the field of sustainable fashion and mainstreaming sustainability in the Indian context.
GreenBiz editors, in collaboration with the World Business Council for Sustainable Development, pick emerging leaders who work across sectors in media, academia, and the non-profit sector, and address the world's most pressing environmental and social challenges effectively and profitably. Dhawal is the only Indian on this list. While studying at the National Institute of Fashion Technology in New Delhi for his master's degree in sustainable apparel production, Dhawal was shocked by the textile sector's side effects. Dhawal hopes this recognition also acts as an inspiration for the next generation of professionals.
Dhawal works with the global fashion retailer C&A to implement its Sustainable Chemicals strategy in the supply chain in India and Sri Lanka. His most rewarding moments come from visiting suppliers who have transitioned to sustainable practices. "Converting them to real action gives you a lot of satisfaction," he says. He also works with a local fashion institute to stitch sustainability into the curriculum and organizes a bimonthly networking event, called Sustainability Drinks Bangalore that connects more than 200 environmental professionals.
Dhawal had also made it to a list 25 Under 25 Global Sustainability Professionals list back in 2014.
LinkedIn: https://www.linkedin.com/in/dhawalmane/             Twitter: https://twitter.com/walmane