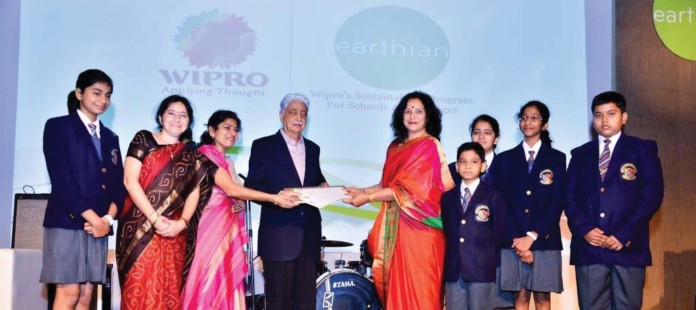 A lot of India's problems can be solved if Indians choose to get their hands wet and dirty instead of expecting government agencies to solve all their problems. This was evident when children of 500 schools, across India, came up with that many ideas to either solve or manage their water problems in their schools and colleges better. This was part of the Wipro's 'Water in Your School' competition.
Of the 500, 23 were recognized with a certifi cate and cash prize by Wipro Chairman Azim Premji himself recently in Bangalore. What the Earthian Awards has demonstrated is that sustainability goals can be achieved faster if we get children engaged.
It goes to show that Prime Minister Modi's 'Clean India' movement will require a close partnership of local community, school/college students-faculty, government agencies and businesses to succeed. It's clear that Wipro's 'Water in Your School' competition can be replicated in areas such as clean toilets, community water projects, reforestation, primary health, renewable energy among others.
The awards list shows that remote rural schools are as much up to speed with water issues as their urban counterparts. It surprising why urban colleges like the Indian Institute of Science and BMS didn't fi gure out solutions long before the Earthian competition hit them. For example, the 400 odd acre IISc campus is big enough to manage its water needs considering the amount of water Bangalore receives instead of complaining. And that too the solution has come from graduate students, not the hundreds of doctoral students who pass out of this campus every year.
TOP WINNING TEAMS
Shri Ramdeobaba College of Engineering and Management, Nagpur
Indian Institute of Management, Indore, Madhya Pradesh XLRI, Jamshedpur, Jharkhand
Maulana Azad National Institute of Technology, Bhopal SASTRA University, Trichy
City Montessori School, Lucknow
Gyan Mandir Public School, New Delhi
Rachana School, Ahmedabad
M.L. Convent School, Bhitara, Jalaun (UP)
Anand Niketan Sewagram, Maharashtra