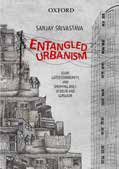 By Sanjay Srivastava, Oxford University Press; December 2014
While it is difficult to grasp the particular essence of a city, its identity lies in its spaces, temporalities, and transformations – different from each other yet enmeshed in tangible and surreal ways that define both the dynamism and instability of its inhabitants. Entangled Urbanism looks at various sites in Delhi and the National Capital Region, unraveling the politics of settlement, construction, demolition, and exclusion along these locations through a twinned discourse of modernity and development.
What emerges from this combination of fieldwork and historical analysis is an exploration of the ways in which these contrasting spaces connect with each other: What processes link consumerism, the middle classes, and the urban poor? How do the pleasures of the gated residential enclaves encompass the pain of the demolished slum locality? What kind of city is produced by the relationship between illegal settlements such as slums, fake documents that seek to stave off demolition and representatives of the legal city such as Residents Welfare Associations? Covering issues like notions of citizenship, symbolic order of the nation-state; rituals of suburban life; and emergent relations between middle classes, the state, and the market, this work captures the myriad overlapping meanings of the city in all its fragments.