FlipKart collaborated with WWF India under the Un-Plastic Collective (UPC) – a voluntary, multi-stakeholder initiative, to drive corporate action toward solutions on plastic leakage. The aim was to unlock barriers to circularity and create new business models to transform the plastic packaging sector by amplifying the collective voice of multiple stakeholders across the value chain.
The case study (https://bit.ly/3IS0pim) shows the FlipKart's immense journey and what it has been able to achieve. It is worth a read by not only e-commerce firms by anyone who is looking for learnings on what goes into the transformation and transition process.
The foreword of the case study makes a telling statement on how India generates 9.46 million tons of plastic waste annually, of which 40% remains uncollected; 43% is used for packaging, most of it is single-use. Packaging uses 40% of all plastic produced—but the average "working life" of a plastic bag is only 15 minutes—resulting in massive resource and energy loss. This exposes companies with large quantities of plastic in their supply chains to material and reputational risk, but also presents them the opportunity to innovate and close the loop on plastic production, by introducing more sustainable options into customer chains.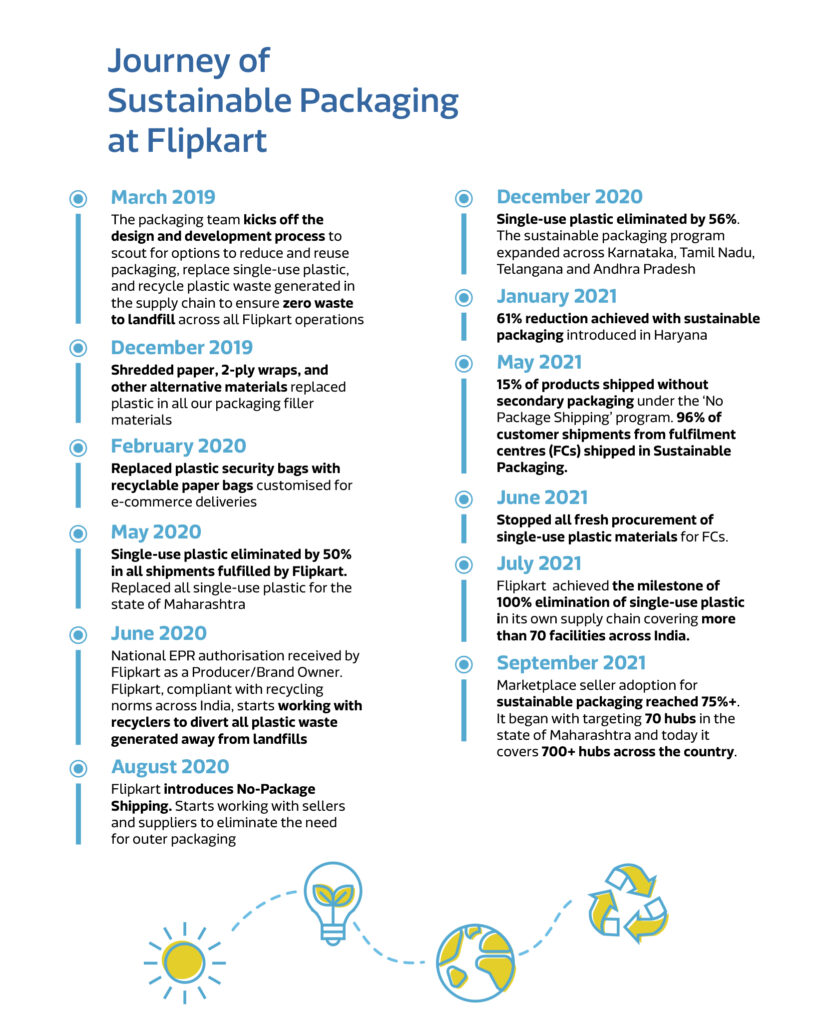 The foreword further states: "Building a responsible value chain is an extensive, complex, and challenging task, and must take centre stage in decision-making. Flipkart's ambition is to use the strength of its platform to do good for people and the planet. With that in mind, we knew we wanted an approach to creating long-term value for our communities by incorporating environmental, social and governance aspects of doing business."
a
Support Green Journalism
Dear Readers,
Since March 2013, SustainabilityNext (SN) has been educating and exciting thousands of entrepreneurs, executives and graduate students about the power of Sustainability in influencing our future. It's purpose is to inspire and provoke Indians to move swiftly from awareness to belief to ACTION.

As of December 2021, SN is India's most read digital magazine on the business of sustainability. It has been covering Green Business, Green Products, Social Entrepreneurship, Green Literature, Green Technology, among others. A youth section was added in 2021.

SN launched India's first Green Literature Festival (www.greenlitfest.com) in June 2021 to offer a robust platform for readers and writers to hold meaningful conversations.

For SN to grow and stay relevant it needs to transition from a grant and self-funded model to a community-funded and/or institution/corporate-funded model.
Looking forward to your timely and generous support.
Why Support SN – https://sustainabilitynext.in/support/
All supporters get two-year subscription to SN. You can Gift Subscription to your colleagues/friends/family.

For sponsorships and advertising please contact

Benedict Paramanand
Publisher & Editor
benedict99@gmail.com
a