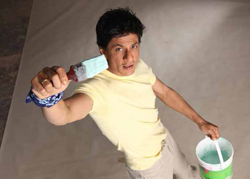 Many FMCG companies have announced ambitious sustainability plans to reduce their carbon footprint and save environment. Specialty chemicals, with their unique properties, are helping these companies realize their green goals.
Everybody is familiar with Shahrukh Khan featuring 'No VOC No Gadbad' ad of Nerolac paints educating the consumers about the side effects of VOC (volatile organic component) in paints. This is one of many such examples wherein consumer product manufacturers are redrawing their marketing plans with emphasize on the eco-friendly theme. FMCG companies are leaving no stone unturned in their quest to reduce carbon footprint in their supply chain. It is here that specialty chemicals play a big role. Be it fabrics that requires less water to wash, powered shampoo, or paints with low VOC, etc all require new processes and raw material (i.e., specialty chemicals) which can help these companies achieve their sustainability goals.
Growing awareness about the environment has made consumers conscious about importance of eco-friendly products and they are ready to pay the premium. As a result, product manufacturers are incorporating changes to suit the consumer demand. "Today, the customer awareness on health consciousness and eco-friendly products has gone up. Manufacturing companies are looking at specialty chemical additives that help in improving the functionality of the product as well as reduce the environmental load either by achieving the same end product in minimum number of steps or consuming less amount of chemicals than before," says K Jayaraman, Executive Director (Operations Consulting), PwC in India.
Recognizing green efforts
FMCG companies are aiming to foster better relation with their suppliers for adopting green processes right up to the final link in their supply chain network. These companies are also recognizing the contribution of suppliers of chemicals by honoring them with green awards. For example, in July 2013, Tata Chemicals was felicitated with the prestigious Unilever's 'Partner to Win' Award for Winning Sustainability in recognition of its effort in aiding Unilever to significantly reduce the environmental impact of laundry powders and their business association to create traceability for mined chemicals.