How one of Bengaluru's posh gated communities cares for those outside it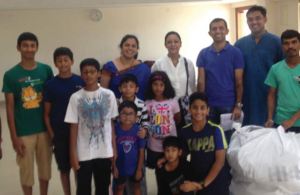 May 30, 2015 was the fifth year celebration of residents of Adarsh Palm Retreat, not among
themselves, but with the children of their domestic staff and kids from neighboring slums. In all, the residents have improved the lives of 1,900 children going to school this year and 3,500 during the last five years.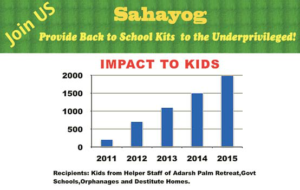 This is rare collective effort especially of the women residents with support from their spouses. Teju Vijay took the bold step and set up a group called Sahayog, which means cooperation in Hindi. Her friends Shoma Barke, Lakshmi, Hema and Veena joined her to raise funding. They have been able to supply most of the annual supplies of back to school kits.
Support staff who benefit include domestic help, drivers, maintenance staff, housekeeping staff and others. This extended to orphanages and students of government schools around Adarsh.
"Our task is to help children to go back to school with a smile by providing them
with necessary schooling aids like stationary, books, bags, shoes along with few health and hygiene camps to ensure their holistic development and start their schooling year afresh. Until now we have helped 3500 kids going back to school. In its 5th year, we are to support 2000 children. Details about the year on year growth and impact of the event attached," says Teju Vijay.
For Shoma this is another initiative in the education for the poor space. She runs Lets Do Some Good (www.ldsg.in) for children of migrant labor in Bengaluru. She has created this as a platform for several NGOs and businesses to contribute. Sahayog can be an inspiration for apartment associations to formally contribute to the well-being of their
support staff as well as the poor living around their complex. This could create communities of goodwill – much needed in hectic and impersonal city life.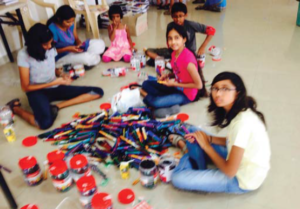 The kit includes pencil set, pouch, pens, note books, eraser, pencil, water bottle, biscuit and school bag. The kit for older girl kids include reusable sanitary pads. The over 2,000 beneficiaries belonged to Thayeeemane Orphanage, Santhosh Charity, Government School at Bognahalli, a destitute school and Joan of Arc Foundation School. What's interesting about Sahayog is that its volunteers include kids as young as 5 and also 70-year olds.