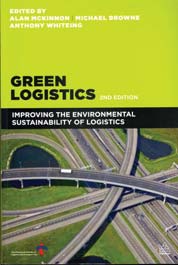 by Alan McKinnon, Michael Browne, Anthony Whiteing, Maja Piecyk Kogan Page, February 2015
As concern for the environment rises, companies are taking more account of the external costs of logistics-specifi cally those costs associated with climate change, air pollution, noise, vibration, and accidents. With contributions written by leading international logistics academics, Green Logistics examines ways of reducing these factors and achieving a more sustainable balance between economic, environmental, and social objectives.
This new edition introduces a new co-editor and contributors, as well as international case studies, for a more global perspective. For the fi rst time, the book will include downloadable supporting materials, technical information, and guidelines for teachers/lecturers. The editors have added new material on e-business, e-logistics, and the environment along with new chapters on green performance and environmental reporting, nature-inspired network design for distributed logistics, green logistics developments in different parts of the world (including North America, Latin America, and South East Asia) and future scenarios for green logistics.