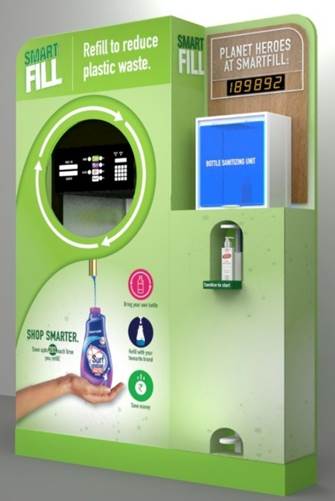 HUL's Smartfill, the company says has received "overwhelming response." This is a first of its kind in India to reduce plastic waste.
The machine allows consumers to refill in store liquid products from Surf, Vim & Comfort.
To access products from the Smart Fill machine, consumers can either use their old empty bottles or purchase a Smart Fill bottle from the store at a nominal price. As an incentive, consumers are being offered Rs 30 off on the MRP or effective price at the store if they get their own bottle and Rs 15 off to those who purchase the Smart Fill bottle.
HUL's three-pronged consumer-centric approach of 'Reuse, Refill and Reward' is to build mass public awareness that changes the way plastic is viewed, used and managed. The company aims to use learnings from this pilot project to create a scalable refill business model in partnership with prominent retailers and trade outlets.
Watch video here