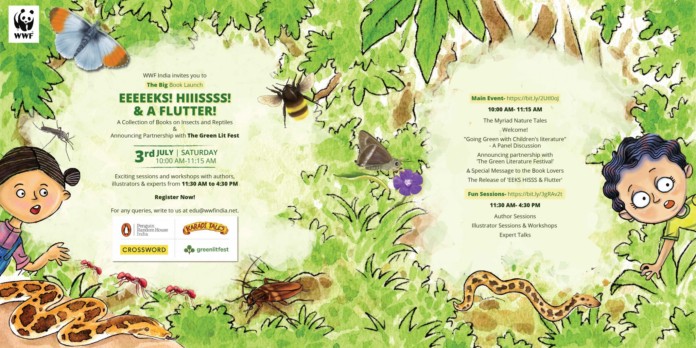 SustainabilityNext is excited to announce the launch of India's first Green Literature Festival (GLF) to be held later this year. GLF will curate honour lists of 'green' literature for adults, children and sustainable business in addition to hosting conversations, dialogues, documentaries, films to accelerate the green movement in India through the year.
GLF aspires to build an enabling ecosystem for amplifying green literature, for authors, readers, poets, teachers, artists, publishers, NGOs, business bodies, public policy forums, education institutions, among others. It aims to become a robust platform to amplify the role of green literature in shaping dialogues, debates, environmental consciousness, education, and call-to-action from political, business and civil society leaders.
While festivals and longlists are meant for celebrating extraordinary and creative work, GLF will aspire to make literature accessible, meaningful, and even fun to a wider audience.
Initiatives such as GLF can make a larger impact only with active collaborations and partnerships. GLF and WWF-India are announcing their partnership at WWF-India's 'Big Book launch' event on 3rd July 2021. With its strong network of offices across the country, WWF India has been at the forefront of nature conservation and environmental education for more than five decades.
Six children's books from the leading publishing houses: Penguin Random House, Karadi Tales and The Write Place – Crossword Bookstore Ltd, will be launched at a virtual event. Watch
GLF is also happy to announce that one of India's premier institutions The Energy & Resources Institute (TERI) has come on board as our knowledge partner. TERI has been offering best-in-class capabilities in research, policy and consultancy in energy, environment, climate change and sustainability over the last four decades.
ICC is India Climate Collaborative.  It aims to inspire, connect, and empower institutions, individuals, and communities to rise to India's climate challenge.
An influential panel of advisors is a prerequisite if an initiative is to realize its potential. GLF's panel of advisors include Jairam Ramesh, prolific author and Member of Parliament. He is the Chairman of the Parliamentary Standing Committee on Science & Technology, Environment, Forests & Climate Change. Among his many books, two are about nature and environment – 'Indira Gandhi – A Life in Nature' and 'Green Signals: Ecology, Growth, and Democracy in India.'
Prof. Harini Nagendra is an ecologist and the award-winning author of 'Cities and Canopies: Trees in Indian Cities' and 'Nature in the City: Bengaluru in the Past, Present, and Future.' She teaches Sustainability at Azim Premji University in Bengaluru.
Zai Whitaker has written more than 20 books on nature. She is a Naturalist, Educator, and the Managing Trustee of the Madras Crocodile Bank.
Radhika Suri is an educationist. She heads Environment Education at WWF-India.
Santosh Jayaram is a Partner and Head – Climate Change, Sustainability and CSR Advisory at KPMG.
GLF is an initiative of India's most widely read magazine on the business of sustainability, www.sustainabilitynext.in. It was founded by Benedict Paramanand in 2013 with funding from Infosys co-founders Kris Gopalakrishnan and S D Shibulal. The festival will be managed by a team of writers.
The team includes Meghaa Gupta, author of 'A Home of Our Own' and 'Unearthed: An Environmental History of Independent India.' She is a passionate advocate of children's literature; Pooja Bhula, independent journalist, green evangelist and author of 'Intelligent Fanatics of India' and Debarati Ghosh, business researcher and strategist at former TCS chairman, S Ramadorai's office. To know more visit www.greenlitfest.com