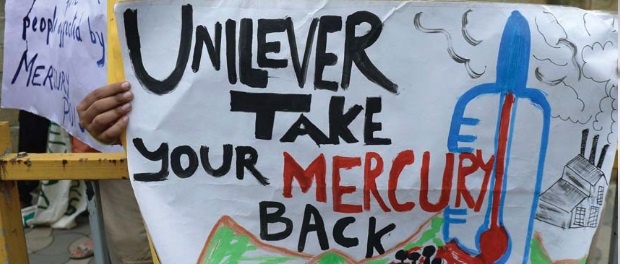 Sofia Ashraf's 'Kodaikanal Won't' – https://www.youtube.com/watch?v=nSal-ms0vcI – is perhaps the most viewed environment public interest video in India. In less than a month it's close to reaching the 4 million viewer mark.
Sofia is dancing on a boat and sprawling on a train while demanding that Unilever clean up its "toxic shit". Through this she is trying to force Unilever to clean up the mercury contamination in Kodaikanal, a popular hill station in Tamil Nadu. Hindustan Lever (subsidiary of Unilever) had closed its thermometer plant in 2001 after more than 1,000 former workers were alleged to have been affected by mercury poisoning.
Unilever is surprised at the new twist to the story because it paid undisclosed amount of compensation to 1000 odd workers and their families in a settlement in March 2016, after a 15 year Madras High Court monitored struggle.
However, the settlement did not include cleaning up the contaminated site, which the company had said; it doesn't see any harm to either the people or the environment.
In response to the video, Unilever CEO Paul Polman, tweeted he is "determined to solve" the environmental problems at Kodaikanal while speaking of the value of facts and not "false emotions". To Paul Polman this incident can be an embarrassment because, after he took over in 2009, he has been one of the front runners advocating and practicing sustainability on the global forums.
Social Media To Fight Environment Issues
Responding to the popularity of the video Sofia has said: "I'm not consciously trying to become a social activist rapper.. But everyone has a conscience, and I knew I had to do something, especially after I met the people affected by the mercury poisoning in Kodaikanal. Unilever has a squeaky clean image on social media. We decided to hit them where it hurts most."
Ashraf was working at the advertisers Ogilvy & Mather when she was approached to do the video by the environmental campaigner Nityanand Jayaraman. "After working in an ad agency, I developed a better
understanding of how to use popular culture to reach a wider audience," she told London's Guardian newspaper.
Jayaraman is piqued at Unilever's attitude to cleaning up the place. He told the paper, "Unilever is saying what any wrong doer would," he said. "The standard for mercury contamination they are using is for residential areas, whereas the plant was located near a watershed forest from which a river flows into a reservoir full of fish. Everyone knows that fish can easily become a source of deadly mercury poisoning."