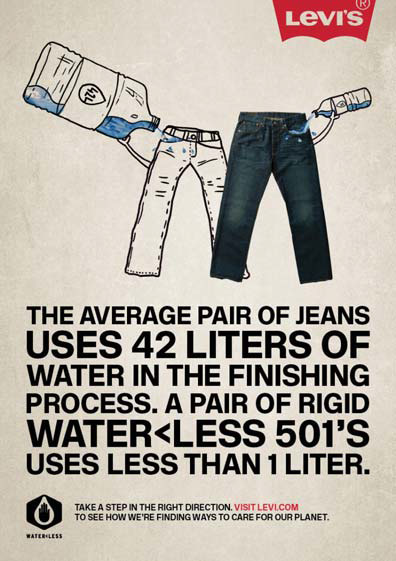 Leading denim maker Levi Strauss said it has saved one billion liters of water through its sustainability initiatives
since 2011 through its Water Less Process, which reduces the water used in garment finishing by up to 96 percent This announcement coincides with the release the company's new product lifecycle assessment. The new study analyzed the complete product lifecycle, probing deeper into the environmental impacts of cotton in key growing
regions, apparel production and distribution in a range of locations, and consumer washing and drying habits in key markets.
The study shows that of the nearly 3,800 liters of water used throughout the lifetime of a pair of jeans, cotton cultivation (68%) and consumer use (23%) continue to have the most significant impact on water consumption. Consumer care is also responsible for the most significant energy use and climate impact, representing 37 percent of the 33.4 kilograms of carbon dioxide emitted during the lifecycle of a jean.
The new study, a company note stated, expands on previous research to better understand the impact of cotton cultivation and includes data from the world's primary cotton producing countries, including the United States, China, Brazil, India, Pakistan and Australia. It also analyzes consumer care data from new markets, including China, France and the United Kingdom, to understand the costs and benefi ts of differences in washing habits.
Better Cotton Initiative
To reduce the impact of cotton consumption the company said it is working with the Better Cotton Initiative to train farmers to grow cotton using less water. Based on the latest BCI harvest data available, in 2013, cotton farmers in China reduced their water use by 23% compared with farmers who were not using BCI techniques. The company plans to continue working with its global suppliers with the goal of sourcing approximately 75% BCI by 2020, up from 6 % today.
Benefits of Using Jeans More Often
The new study also revealed that Americans use more water and energy to wash their jeans than consumers in China, France and the U.K. It shows that consumers in China wear their jeans, on average, four times before tossing them into the wash — and if American consumers did this, they could reduce the water and climate change impact from washing their jeans by 50 percent.
"It's time to rethink autopilot behaviors like washing your jeans after every wear because in many cases it's simply not necessary," said Chip Bergh, CEO and president of LS&Co. "Our LCA fi ndings have pushed us as a company to rethink how we make our jeans, and we're proud that our water stewardship actions to date have saved 1 billion liters of water.
By engaging and educating consumers, we can fundamentally change the environmental impact of apparel and, ideally, how consumers think about the clothes they wear every day."
Based on the study's fi ndings, which indicate that consumers are responsible for 23% of the water used in the lifecycle of a pair of jeans, the company is launching a new consumer education campaign to ensure consumers understand their environmental impact.